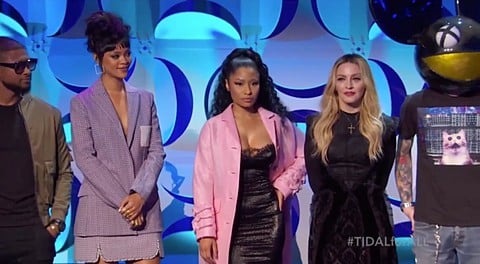 Did you miss yesterday's extremely weird press conference for Jay Z's streaming music service TIDAL at which Usher, Rihanna, Nicki Minaj, Madonna, Deadmaus, Kanye West, Jay Z, Arcade Fire, Beyoncé, Calvin Harris, Chris Martin, Daft Punk, Jack White, Jason Aldean, J. Cole, and Alicia Keys were paraded on stage.
Keys served as ringmaster of this musical circus, calling it a "graduation" while she hummed a few verses of "Pomp and Circumstance", and praised the power on stage for coming to the rescue of music!
"How much do we love our music? How much do we love this thing called music? So we come together before you this day, March 30 2015, in one voice in unity, in the hopes that today will be another one of those moments in time, a moment that will forever change the course of music history."
She then cited Nietzsche: "Without music, life would be a mistake."
Then, as if in some secret society ritual, the musicians signed a Declaration, Madonna humped the table, and they all walked off the stage without announcing anything, really.
Watch, AFTER THE JUMP…