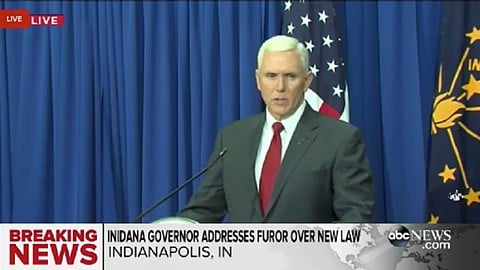 Indiana Governor Mike Pence continued to mislead the public about the intent of the Religious Freedom Restoration Act and draw false comparisons to previous legislation, blaming the media for mischaracterizing the content of the bill. Pence also emphasized that he felt what needed to be changed in an upcoming "fix" to the law's language was the "perception problem", continuing to deny that the law allows discrimination against gays and lesbians.
Pence used many of the talking points we have seen over the past couple of days, claiming the law is "about religious liberty not discrimination" and alleging that "this law does not give anyone a license to discriminate, does not give anyone the right to deny services."
"I can appreciate that that's become the perception and we need to confront that and confront it boldly," said Pence.
"I abhor discrimination. I believe in my heart of hearts that no one should be harassed or mistreated based on who they are who they love or what they believe…I've come to the conclusion that it would be helpful to move legislation this week to make it clear that this law does not allow businesses to deny services to anyone…I believe this is a clarification but it's also a fix. It's the fix of a bill that through mischaracterization and confusion" has been misunderstood.
He blamed the media for the bill's bad PR calling the reaction a "smear" against the people of Indiana.
Pence did not give any details of what that "fix" might be, saying that its language was still under consideration and discussion but he said that the legislature needs to focus on the perception that the bill creates a "license to discriminate."
Pence also commented on a disastrous interview he gave to George Stephanopoulos defending the bill on Sunday: "I could have handled that better this weekend."
"This law does not give anyone a license to deny services to gay and lesbian couples," Pence added.
Was he expecting this backlash: "Heavens, no!"
A full video of the press conference appears, AFTER THE JUMP…