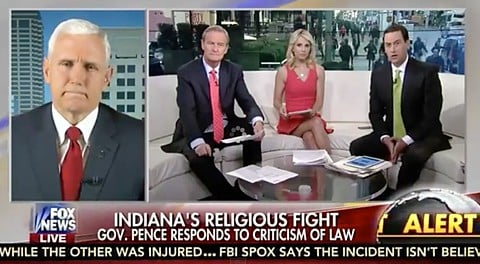 Indiana Governor Mike Pence appeared on FOX & Friends this morning again drawing false comparisons between Indiana's Religious Freedom Restoration Act and legislation that Bill Clinton and Barack Obama signed years ago.
Pence was also asked by Steve Doocy about accusations that the law is also racist.
Pence's response was to invoke Selma:
"Five years ago my wife and my family walked the Edmund Pettus Bridge with John Lewis when I co-chaired the pilgrimage to mark the 45th anniversary of Bloody Sunday. I abhor discrimination. If I was in a restaurant and saw a business owner deny services to someone because they were gay, I wouldn't eat there anymore. Frankly, that's how most Hoosiers are."
He adds, "there was never any intention in this law to create a license to discriminate."
If the bill is not about discrimination, why was Pence flanked by anti-gay activists who have worked for years to demonize gays and lesbians when he signed it?
Watch, AFTER THE JUMP…
Pence also published an op-ed today in the Wall Street Journal repeating his talking points, "I abhor discrimination."
"I believe in the Golden Rule that you should 'do unto others as you would have them do unto you.' If I saw a restaurant owner refuse to serve a gay couple, I wouldn't eat there anymore…As governor of Indiana, if I were presented a bill that legalized discrimination against any person or group, I would veto it."