This weekly travel column is brought to you by ManAboutWorld, an immersive digital premium gay travel magazine from Billy Kolber, Ed Salvato, Kenny Porpora, and nearly 75 Global Correspondents.
Major airlines may be cutting back the miles you earn for flying, but what's in your wallet is the secret to upgrading your travel experience. Choosing the right credit cards can get you airport lounge access to hotel suite upgrades, and thousands and thousands of miles that you can use for flight upgrades and free trips. Here are our top five tips to turn everyday purchases into extraordinary travel. More details are available on the ManAboutWorld blog.
The Acquisition Bonus
Just getting a new credit card should yield 30,000 to 50,000 points — sometimes even double that. Switching cards frequently can lower your credit score, but if you're not applying for a mortgage anytime soon, cash in by changing cards at least once a year.
Airline Cards
If you're a semi-frequent traveler who doesn't fly enough to earn elite status, the benefits offered simply by having a rewards card from your airline(s) of choice can be a big upgrade: Free checked baggage, priority boarding, onboard purchase discounts, companion flight offers.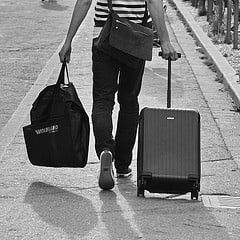 Hotel Cards
Most hotel-affiliated cards come with upgraded elite status and benefits such as free internet, and a free night annually that can cover the cost of the card.
No Hassle Cards
Capital One's promise of easy rewards really strikes a chord for anyone who's tried to redeem miles at a saver level award. But here's the thing: their "reward rate of return" is 1.25-2%, while airline program points redeemed for first and business class tickets can be a 4-13% return if you're smart about redemption. Choose these cards only if who can't be bothered playing the redemption game.
"Universal Donor Cards"
American Express, Chase, Citi and Diners Club all offer cards that transfer to a wide variety of partner programs. This is a great way to bank "universal" travel points, which you can accumulate and then strategically deploy. Our favorites of these cards are the American Express Platinum Card and the Citi Prestige Card. Both have high annual fees, but come with equally impressive benefits. American Express' own "Centurion Lounge" — are now the best lounges in the United States.
For more opinionated travel information and inspiration, get ManAboutWorld Magazine on iTunes (iOS) or Google Play (Android). 
Image credits: Top: Adria Garcia; right: Michael