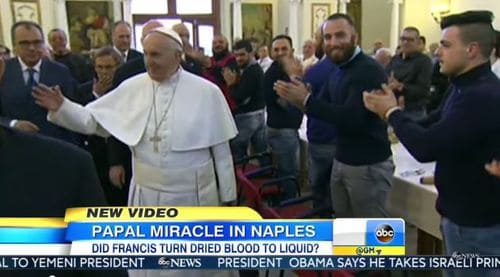 Pope Francis continued to set himself apart from his Papal predecessors this past weekend by paying a visit to a prison in Naples. In an effort to further reach out to the public and reorient the the Church's focus, Francis joined some 90 inmates for a lunch gathering prepared by the convicts themselves. The inmates were selected via a raffle from a pool of nearly 2,000 people including inmates from the prison's specialized ward for LGBT identified persons and those battling HIV/AIDS.
Francis's choice to break bread with members of Italy's queer population is the latest in a long line of somewhat mixed messages the newest Pope has shared about the Catholic Church's shifting stance on LGBT equality. While Francis has repeatedly fallen back on the Church's traditionally negative views regarding gays and marriage equality, he's also alluded to having a somewhat more even-keeled perspective. While Francis has stopped short of full-on coming out in support of gay rights, he's repeatedly stressed that the Catholic Church's energies would be put to better use focusing on being more inclusive.
Most recently the Pope met with Diego Neria Lejárragam a Spanish transgender man, who was ostracized by his church following his decision to have gender reassignment surgery. In an impassioned letter Lejárraga asked to have  meeting with the Pope in order to seek out advice about how to reconcile his gender identity with his faith and his desire to remain an active participant of the church. A month later, however, Francis made clear that he was only so tolerant of the concept of gender identity.
Francis seems to be at his most comfortable when he's vacillating somewhere between old-school institutional bigotry and tepid acceptance of LGBT people. Disorienting as his mixed messaging may be, there's a chance that his shifting views may reflect on his outlook on the papacy. While he's expressed that he doesn't "mind being the Pope," Francis has also alluded to missing his former life as a regular priest. It's unclear whether or not the Pope is contemplating stepping down in the near future, but his brushes with LGBT acceptance could be a sign of decisions to come.
Watch an ABC News report, AFTER THE JUMP…