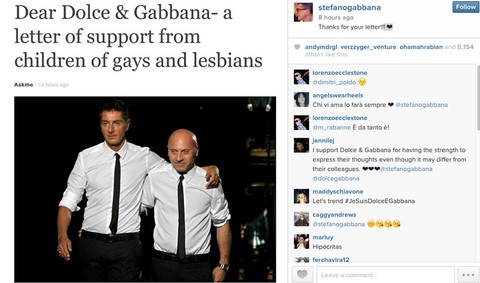 Following the bombastic praise heaped on Italian clothiers Domenico Dolce and Stefano Gabbana (aka Dolce and Gabbana) by the National Organization of Marriage (NOM) in the wake of the duo's incendiary comments criticizing same-sex parenting, comes new support from another unlikely ally: prominent anti-gay activist Robert Lopez.
Lopez, who despite being an ardent opponent of same-sex marriage, has also dabbled in self-publishing his own brand of gay fiction. His latest piece, however, is an unsettling piece of non-fiction. In an open letter posted online, Lopez joins 5 other individuals who were raised by gay and lesbian parents in writing to Dolce & Gabbana, expressing their support for his remarks and begging them not to back down:
Every human being has a mother and a father, and to cut either from a child's life is to rob the child of dignity, humanity, and equality.
We know that gay parents can be loving, since we loved our parents and they loved us. Nonetheless, we have all had firsthand experience with the harsh backlash that follows when the dominant view of "gay parenting" as universally positive is questioned. We know that you will come under tremendous pressure, especially now when both Italy and the United States are being pushed to override our concerns for our rights to a mom and dad, in order to please a powerful gay lobby.
Nobody receives more vicious attacks from the lobby than those who come from the gay community and question its policies: children of gay couples just as much as the gay men who defend them (like the two of you). In all likelihood many in the international community will try to get your shows cancelled, your advertisements censored, and your reputation destroyed online. You have shown yourselves to be extremely brave. You have given us great inspiration as all six of us prepare to submit letters to the US Supreme Court against gay marriage.
We want to praise your courage and thank you for your inspiration. We also implore you not to surrender when the backlash grows in intensity. If you back down from what you said and apologize, it will leave the children of gay homes even more vulnerable and discredited. It is important for our sake, for the sake of Italian children as well, that you not apologize or capitulate. Please support the idea that all children need to be bonded with their mothers and fathers. It is a human right.
 Gabbana posted a picture of the open letter on his Instagram with the caption, "Thanks for your letter!!! ❤️"