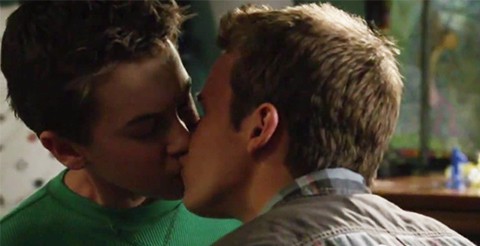 Last night's episode of ABC Family's The Fosters saw a same-sex kiss between thirteen-year-old boys Jude and Connor, which may be the youngest same-sex kiss ever to be seen on US television. Executive Producer and show creator Peter Paige (whom you may recall from Queer As Folk) tweeted about the kiss, the history it made and how the moment shared between Jude and Connor (or #Jonnor as their social media fans know them) captures the "exquisite torture" of falling for someone in Jr. High and not being sure if that love is unrequited or not:
Youngest same-sex kiss in US television history? #Jonnor #FostersSocialHour

— Peter Paige (@ThePeterPaige) March 3, 2015
Anyone else remember the exquisite torture of falling for someone and not knowing how they felt? My life in jr. high. #FostersSocialHour

— Peter Paige (@ThePeterPaige) March 3, 2015
#Jonnor fans were not shy in sharing their elation over the kiss. 
The entire #Jonner fandom right now! #TheFosters #JudeandConner pic.twitter.com/q7fFcw3zw1

— Keyanna TV (@vampentries_24) March 3, 2015
Only in 2015 can you see 2 boys kissing on TV….and it is literally a beautiful thing. In awe. #Thefosters #thefostersocialhour #jonnor

— Micah Paradox (@superboymicah) March 3, 2015
The tension between Jude and Connor had been building for sometime on the show, as BuzzFeed notes. Jude is one of five children that live with a lesbian couple that have built a family composed of five biological, adopted and foster children. Jude and Connor first grew close when Connor wore nail polish to school to show solidarity with Jude who had been bullied for painting his nails.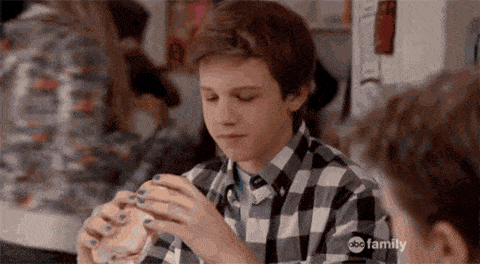 Things got a little more intense when the two went on a camping trip, sharing a tent and doing something that was vaguely referred to by Jude as "something that was wrong…I guess." Then, the pair upped the cuteness factor by interlocking pinkies whilst watching a movie (flanked by girls, sadly).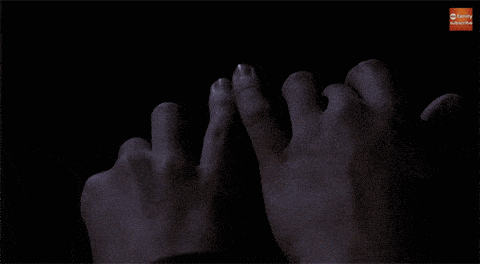 But all of this became too much for poor love-stricken Jude who finally confronted Connor about what happened that night in the tent in the woods and everything that had been building since:
"You kissed me! Remember? In the tent? And then at the movie theatre you held my hand. And now all day you've been…I just… I don't get this. I don't get you."
And then, Connor took matters into his own hands and the kiss happened. Watch for yourself, AFTER THE JUMP…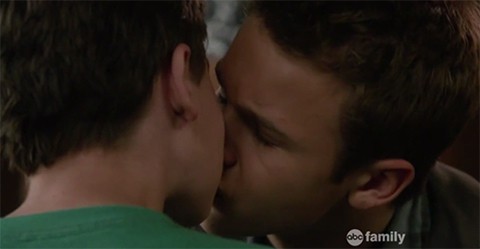 BONUS: The pinky-hold.