Following a failed attempt last week by a small number of religious leaders to add a "conscience clause" to the referendum, Pastor Craig Ledbetter of the Bible Baptist Church in Cork has compared homosexuality with rape and adultery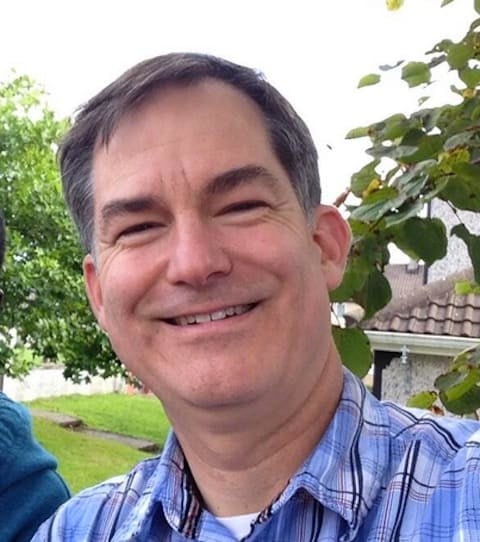 Image from Twitter
With just over four weeks to go until Ireland's marriage equality referendum, the "no" campaigners are taking a leaf from American anti-gay activists like Scott Lively in their attempts to sway voters.
Following a failed attempt last week by a small number of religious leaders to add a "conscience clause" to the referendum, Pastor Craig Ledbetter of the Bible Baptist Church in Cork has compared homosexuality with rape and adultery.
In an interview with the Irish Examiner, Ledbetter argued that a same-sex sexual relationship can never be consensual:
"Homosexuality is wrong, just like rape and just like adultery.

"We are dealing with one party believing he is right in what he is doing, so it is not really consensual. Two people can consent to adultery or consent to rob a bank, but that doesn't make either of those things right.

"If they want a sexual relationship they can get the blessing of the State but that should not amount to re- defining marriage which is exclusively the preserve of a man and a woman."
Recognizing that his bizarre opinions could convince many people to vote in favor of the referendum, he also complained that there has been no serious discussion on same-sex marriage in the Irish media apart from "a few fake TV debates."
Ledbetter has since claimed that he was misquoted.
Strange how people quote me about same sex marriage but have no idea what I actually said. Rape is sexual sin as is adultery & homosexuality

— Craig Ledbetter (@craigledbetter) April 18, 2015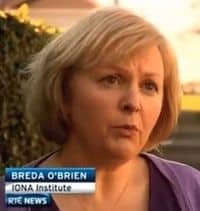 Last week, Christian activists including Iona Institute mouthpiece Breda O'Brien (right) attacked former Irish President Mary McAleese for comments in support of same-sex marriage. Yesterday, O'Brien said that gay people and unmarried heterosexuals should abstain from sex in order to live a Christian life. A petition to revoke the Iona Institute's charitable status is less than 2,000 signatures short of the required 15,000.
A March Irish Times poll found that 74 percent of the electorate intend to vote in favor of same-sex marriage.
Watch the Iona Institute's The Case For Man/Woman Marriage video and a parody detailing "the right kind of discrimination," AFTER THE JUMP…