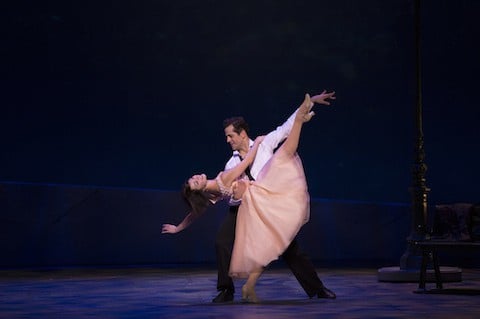 BY NAVEEN KUMAR
There is an airy and dizzying quality to Christopher Wheeldon's wonderfully imaginative production of An American in Paris, a new musical that opened last night at the Palace Theatre. It feels something like a first gasp of air after holding your breath for a long, long time. Broadway is currently awash in questionable movie-to-musical marquees, but a stage version of the 1952 Oscar-winning picture starring Gene Kelly feels like a foregone conclusion held in suspension. And over half a century later, the wait was worth every minute.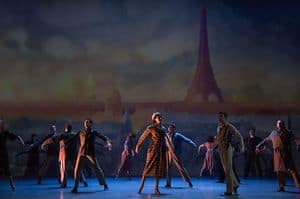 The show features an assembled score of beloved tunes by George and Ira Gershwin (including those the pair wrote for the movie and other favorites), and an expertly reworked story by book writer Craig Lucas (The Light in the Piazza), which artfully expands on the movie's characters and reimagines its sparse plot into a more satisfying one for the stage. Made just years after World War II, the movie is pure Hollywood escape; but Lucas grounds the airborne musical in the aftermath of Nazi liberation in 1945—in a Paris in the throws of reinvention.
GI-turned-artist Jerry Mulligan (a charming and fleet-footed Robert Fairchild) stays behind after the war to pursue both an artist's life and, of course, a woman. He falls in with Adam Hochberg (Brandon Uranowitz), a composer and fellow expat, and Henri Baurel (Max von Essen), the son of their French landlords and a closeted cabaret singer (and possible closet case).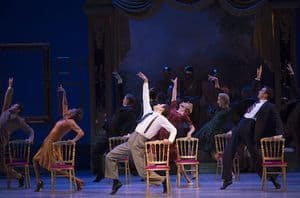 As quickly becomes clear, all three men are in some stage of falling in love with Lise Dassin (a graceful and beguiling Leanne Cope), a ballet dancer and very close consort of the Baurel family. Jerry also catches the eye of a wealthy patron, Milo Davenport (Jill Pace), adding another dimension to the plot's romantic web.
Lucas lends the characters rich backstories and reasons to sing and dance (largely absent in the film), and the company brings their characters to life as if for the first time (with a couple new characters added into the mix). Fairchild, a principal member of NYC Ballet, and Cope, of London's Royal Ballet, are both captivating on their toes, and equally winning in dialogue and song. The rest of the cast is likewise excellent, including von Essen in a rousing rendition of "I'll Build a Stairway to Paradise," and Veanne Cox as Madame Baurel, his coolly droll mother.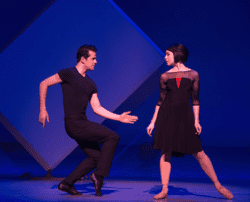 Wheeldon, a renowned ballet artist, makes a remarkable directorial debut (the production first premiered in Paris last fall). Every aspect of the show unfolds like an effortless, mesmerizing dance.
His masterful choreography can be seen everywhere from the limbs of his actors to the movement of furniture and gliding of cityscapes. The gifted design team—led by a visionary Bob Crowley—mines the city's art history to stunning effect. The city, sketched to life as it wakes up from war, grows back into the vibrant forefront of modern art. 
Recent theatre features… 
'90s Political Sex Farce 'Clinton the Musical' Opens Off Broadway: REVIEW
Possessed Puppet Comedy 'Hand to God' Opens on Broadway: REVIEW
Carey Mulligan and Bill Nighy Open in 'Skylight' on Broadway: REVIEW
Elisabeth Moss and Jason Biggs Open on Broadway in 'The Heidi Chronicles': REVIEW
Helen Mirren Reigns on Broadway in 'The Audience': REVIEW

Follow Naveen Kumar on Twitter: @Mr_NaveenKumar (photos: angela sterling, matthew murphy)