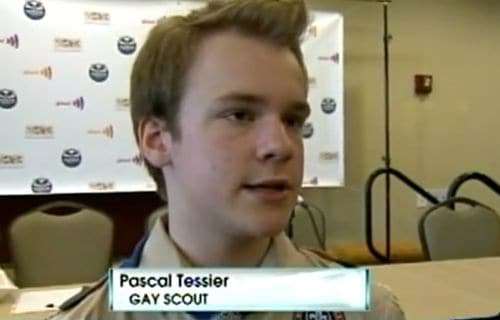 18-year-old Pascal Tessier became one of the first openly gay youth to receive the rank of Eagle Scout back in February and has now been hired by the Greater New York Councils of the Boy Scouts of America to serve as a leader at its scout camps this summer, Buzzfeed reports:
When asked on Wednesday if there was any change to the national policy regarding out gay adult leaders, Boy Scouts of America spokesman Deron Smith responded, "[T]here isn't." Smith did not immediately respond on Thursday to a request for comment regarding Tessier's hire specifically.
The Greater New York Councils, however, is ready for Tessier to get to work.
"We've accepted him, he was put through the normal process," Richard Mason, a board member of the Greater New York Councils and spokesman for the councils, told BuzzFeed News. "They have not, to my knowledge, rejected him, so, as far as we are concerned, this young man is coming to work, is ready to do so this summer."
Prop 8 lawyer David Boies has already stepped up to represent Tessier should the BSA reject Tessier's hire. Boises says he's "hopeful" Tessier's hire "signals the end of the last vestige of the Scouts' discrimination."