BY OCCUPY THE DISCO / JOSH APPELBAUM
David Morales: 'Frankie's Tune'
One year ago, the world lost the man affectionately known as "the godfather of house music," Frankie Knuckles.  With five singles hitting #1 on the Billboard dance charts, including "Tears" and "The Whistle Song," and dozens of hit remixes for artists like Michael Jackson, Toni Braxton, and Lisa Stansfield, Knuckles' impact was felt not only the airwaves but in the clubs.  He was one of the pioneers of house music along with childhood friend Larry Levan, and the phenomenon they created with their music transcended gay, straight, black or white clubs, uniting many under a shared love for this new dance music. 
Frankie was part of a collective called Def Mix with long time friend David Morales. In tribute to his late friend, Morales has released 'Frankie's Tune,' a beautiful, soulful house track true to the style that Morales and Knuckles crafted together in their many years of producing. Tamra Keenan provides vocals on the track, backed by the signature Def Mix piano and percussion. It's a tender reminder that house music isn't just bass and beats, but can be a rather lush form of music from the soul, a legacy that Frankie was instrumental in fostering.
More new music, AFTER THE JUMP…
Penguin Prison's latest single 'Never Gets Old' is everything you'd expect from the NYC-based singer/producer: fun, upbeat, rock-infused electro pop. Fellow statesmen Solidisco (from Buffalo) added some extra pep to the track – making it a perfect carefree dance floor hit.

 

Singer

Jillian Hervey

has clearly

embraced her mane

, naming her joint music project with producer Lucas Goodman

Lion Babe

. Their single 'Jump Hi,' a collaboration with

Childish Gambino

, got the new group some great press around it's November release (so did the fact that Hervey is the daughter of LGBT icon

Vanessa Williams

). The talented

Todd Edwards

got his hand on this track recently and his take is one worth many repeat plays. 

 

Belgian producer A.N.D.Y. teamed up with talented R&B singer Vanya Taylor for 'Chemicals,' an upbeat garage house banger that fans of Disclosure and Duke Dumont will love.

 

Moullinex has a new album, Elsewhere, dropping on the Discotexas label next month following 2012's excellent LP Flora.  The 'Take My Pain Away' singer/producer is back with more of his signature soft, tropical house sounds that he's known for, heard especially here on this first single, 'Take A Chance.'

 

Luke Solomon's Unfinished Business series brings together the producers penchant for rare records, re-edits of some of his labels' classic tracks, and the opportunity to showcase new songs, like this collaboration with Sam Lynham called 'Simple Things.'  It's a got a funky, futuristic spacey house sound that I'm really digging.

 

Lately,

Sidney Charles

' Berlin sound has been one of my favorites to hear on the dance floor.  His techno/house sounds have a sensibility and lightness to them not often found in more techno-leaning house music and he's also

quite the looker

, which doesn't hurt either.  

DJ Sneak

recently remixed his 'Psyjack' and the result is pretty fantastic.

 

Aussie producer and remixer Casual Connection always delivers on his disco and funk re-edits.  This time, he's taken on One Way's 1981 single 'Push' and added his magic touch to the song, out in June on his Funk The Boat EP.

 

Finally, we end this week with some 'Soul Music' by Bodhi, a deep house track that lives up to its given name.  
This weekend in NYC: it's our birthday!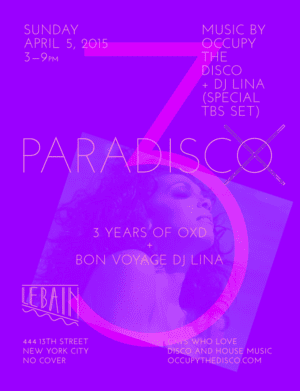 We're celebrating 3 years of Occupy The Disco (and our third year writing this column for Towleroad!) the best way we know how: an extra special edition of our afternoon tea dance Paradisco, at our home Le Bain at The Standard, High Line.
Our dear friend DJ Lina will add the special Fire Island flavor that only she can supply with a special sunset TBS (Throw Back Sunday) set. OXD's DJ RuBot, Tad Haes & Josh Appelbaum will keep everyone dancing for rest of day (and evening) with the body-moving daytime disco and house music you all know. Arrive early to avoid lines; 3-9P this Sunday.
The OXD Mirror is a weekly music column brought to you by the boys of OCCUPY THE DISCO (OXD), a New York City based collective created by three music lovers, Ru Bhatt, Josh Appelbaum, and Tad Haes, who want to share their love for disco, house and dance music with the world.   
OCCUPY THE DISCO (OXD) curates and recommends music events to the gay community in NYC—in an effort to move the focus of the nightlife scene beyond the promoter and venue and to the music itself. OXD's goal is to educate, entertain, engage and empower the gay audience to reclaim their ability to question and experience the unknown. The OXD Mirror will serve to showcase tunes that are definitely off-the-beaten-path but rightfully deserve the attention of the gay ear.