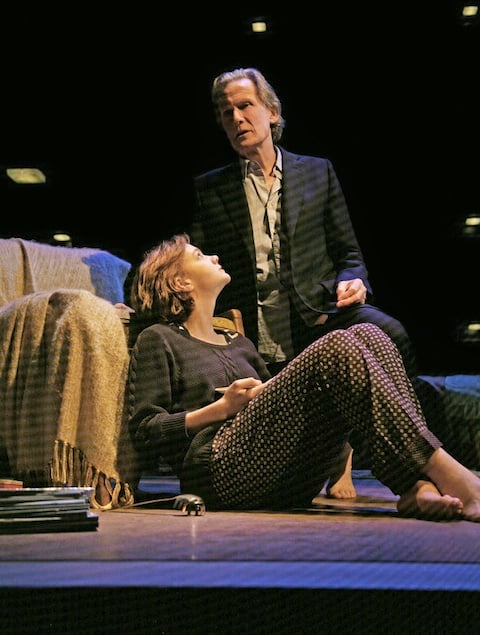 BY NAVEEN KUMAR
In one remarkable scene of director Stephen Daldry's arresting and vivid production of Skylight, which opened on Broadway last night at the Golden Theatre, Kyra and Tom, the two main characters in David Hare's 1995 drama, recall the spark and collapse of their six-year affair as Kyra prepares food in her rundown London flat. The tension between the former lovers, played with impeccable emotional precision by Carey Mulligan and Bill Nighy, bubbles up in tandem with the food on the stove—and as the scent from the pot wafts through the audience over the course of their gripping exchange, the production achieves something like a total seduction of the senses.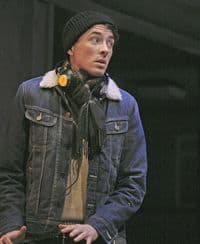 In the scene, we learn that Tom, a wealthy and successful restaurateur, met Kyra when she arrived in London at the age of 18 and got a job in one of his restaurants. The two began a romance they kept secret from Tom's wife for six years, and which ended a few years before the play begins. Tom's wife has since died of cancer, and his teenage son Edward (played by a dazzling and jumpy Matthew Beard) arrives at Kyra's door hoping she can wrest his dad from his misery (or at least make him less miserable to be around). 
Hare's three-character play happens over just two days in a single dingy, North London flat, but covers a sweeping range of social and political questions. The couple is divided across a line of haves and have-nots—he's a rich, upper-class business owner and she's a working-class teacher of underprivileged kids. Though the parallels are a bit neatly laid, the playwright's exploration of the great social divide is well grounded in intimate drama, and the play's language is full of the sort of swift insights and everyday poetry for which Hare is known. The beautifully designed set by Bob Crowley also situates the lovers in a broader context, showing glimpses of the other lives unfolding around them.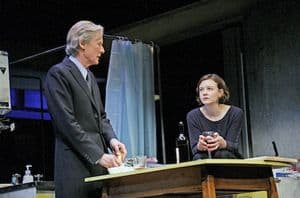 Nighy, previously seen on Broadway opposite Julianne Moore in Hare's The Vertical Hour, plays his role with the exacting, frenetic energy of a musician playing an instrument. His hands clenched in half-fists, Tom moves in fits and starts—bucking against the rare feeling of not having control. Nighy brings a spellbinding charisma to the role, making it easy to see why Kyra fell for him in the first place. He wants her back now, and considers the life she's built since leaving him as an elaborate escape.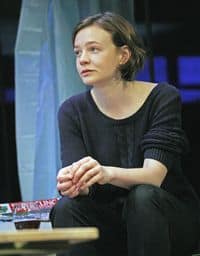 Hare's play is primarily concerned with its two generations of men, and, for three-quarters of the story, Kyra is something of a sieve for their psychological gymnastics. She listens, evades, serves tea, cooks and tidies up messes (which she mostly makes herself). Mulligan (previously seen on Broadway in The Seagull) has a brilliant and uncanny way of evoking a swell of feeling behind a placid exterior. And when she does unleash that inner turmoil, she does so with explosive and affecting force.
Though the play's gender politics show some signs of age 20 years on (Kyra questioning Tom about respecting her decisions actually gets a laugh), Daldry's production makes the drama and its many social questions feel vital and urgent. Having collaborated on the novel-to-screen adaptations of The Hours and The Reader, Hare and Daldry have a visual language all their own, and it's as stunning as it is visceral. Seeing this many gifted artists come together is rare, and the results are divine. 
Recent theatre features…
Elisabeth Moss and Jason Biggs Open on Broadway in 'The Heidi Chronicles': REVIEW
Helen Mirren Reigns on Broadway in 'The Audience': REVIEW
Tony Danza Opens in 'Honeymoon in Vegas' on Broadway: REVIEW
Jake Gyllenhaal and Ruth Wilson Open in 'Constellations' on Broadway: REVIEW
John Cameron Mitchell on Returning to 'Hedwig': INTERVIEW

Follow Naveen Kumar on Twitter: @Mr_NaveenKumar (photos: john haynes)