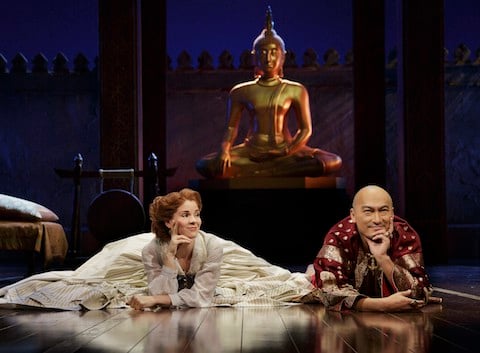 BY NAVEEN KUMAR
The best of American theatre tends to come from rare and kinetic collaborations. This season, two such pairs have joined forces for a breathtaking revival of The King and I, which opened on Broadway last night in a Lincoln Center Theatre production at the Vivian Beaumont. They are artful director Bartlett Sher and the luminous Kelli O'Hara, whose incomparable talent reaches new heights in the role of Anna. And, of course, Rodgers and Hammerstein, who penned the 1951 musical along with a host of other midcentury classics, including South Pacific, which Sher and O'Hara revived to much acclaim on this same stage in 2008.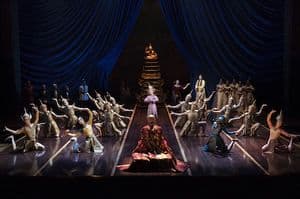 In a scenic feat that warrants its own applause (the stunning, yet economic set design is by Michael Yeargan), a widowed Anna arrives in the port of Siam from Singapore with her young son, to teach the King's many children (and his many wives) about the world (i.e. the West). The King, played with unimpeachable charm by Ken Watanabe (The Last Samurai) is facing down colonial overtures from Europe, determined to stand firm against Victorian imperial sprawl. As much as he resists the West, he also understands that knowledge is power. Anna has it in spades, and stands her own ground in their ongoing battle of wills, eventually teaching him to know his enemies in order to overcome them.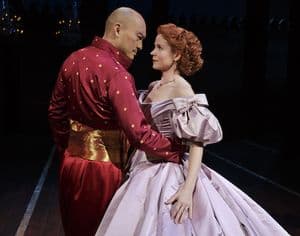 Based on the 1944 novel Anna and the King of Siam by Margaret Landon (whose story is drawn from memoirs by a governess who served the king in the 1860s), the musical carries with it a distinct danger of feeling both racist and misogynistic — two American men conjuring up a vision of Asia (in musical form, no less) makes for a slippery slope. But Sher's approach to the material is nuanced at every turn, spreading sympathies equally across the sprawling cast of characters (which, yes, includes a host of very adorable kids) and generating disarming humor from the tension between cultures.
The resulting success is thanks in no small part to O'Hara, whose indelible performance marks the pinnacle in her track record for reinventing classic heroines. On top of being the warm-hearted but strong-willed, pugnacious Anna with whom audiences may already be familiar, she's also silly, imperfect, and utterly knowable — not to mention something of a badass (and a feminist!). Watanabe's King is far sillier than Anna (actually, he's a kook), which works to balance out his stubborn pride and sometime cruelty. He's the shrew in need of taming, and it takes an educated woman to do the job.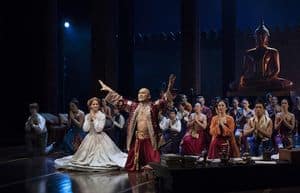 In the supporting romantic plot, Ashley Park (as Tuptim, a slave promised to the King) and Conrad Ricamora (Lun Tha, her lover and the emissary sent to bring her) are exceptional, as is Ruthie Ann Miles as the King's first wife (all three sing beautifully). Christopher Gattelli recreates Jerome Robbins' original choreography, which manages to make the polka feel like the most expressive dance of all time (in part thanks to Catherine Zuber's ebullient costume design). And when Anna finally takes the King's hand and asks, "Shall we dance?" — there is only one resounding answer floating in the room. 
Recent theatre features… 
Matthew Morrison and Kelsey Grammer Open in 'Finding Neverland' on Broadway: REVIEW
Ballet Meets Broadway in Dazzling New Musical 'An American in Paris': REVIEW
'90s Political Sex Farce 'Clinton the Musical' Opens Off Broadway: REVIEW
Possessed Puppet Comedy 'Hand to God' Opens on Broadway: REVIEW
Carey Mulligan and Bill Nighy Open in 'Skylight' on Broadway: REVIEW
Elisabeth Moss and Jason Biggs Open on Broadway in 'The Heidi Chronicles': REVIEW


Follow Naveen Kumar on Twitter: @Mr_NaveenKumar (photos: paul kolnik)