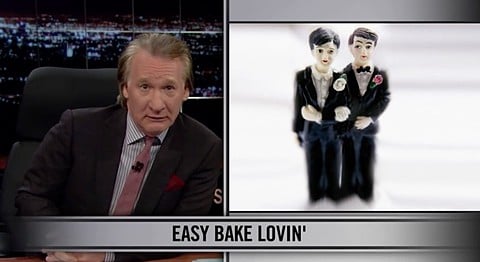 Bill Maher spent a few minutes of Real Time last night talking about religious conservatives here and abroad who really do want to kill gays.
Watch his full segment, AFTER THE JUMP…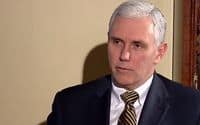 Said Maher:
"Ever since Indiana Governor Mike Pence signed his Religious Freedom Restoration Act he and like-minded conservatives have been trying to have it both ways. They hate discrimination, but they love the Bible, a book that commands you to discriminate. That's what it says. Gay is an abomination and we must destroy it — by denying it pastry. Of course the root of this problem is that more than half of all Americans believe that the Bible is the actual or inspired word of God. But, now 55% also support gay marriage which must be very confusing. On the one hand, clearly, God has spelled it out. He hates fags. But you like your gay neighbors Rob and Larry. But, the Bible tells you to kill them. Yes, it literally says kill them. What to do?"
Maher then takes a look at religious fundamentalists like California lawyer Matt McLaughlin and his "kill the gays" ballot proposal, Jerry Falwell's preachings about AIDS and 9/11, John Hagee's blaming of Katrina on gays, Pat Robertson's endless condemnations, and Bob Jones's statement that gay people should be stoned to death (for which he has since apologized).
Then Maher notes that in Saudi Arabia, Iran, Pakistan and other countries they really do kill gays.
"There's so much wrong with America these days, take pride in the one thing that is legitimately better. We don't let fundamentalists rule our s–t. What's the proof? Our gay battles are over cake, and even then, not once has one of these RF laws been used to deny a gay person his wedding cake. What happes is, there's a lawsuit, it goes to court, and the judge says, 'bitch just make the cake!'"
Watch his full segment, AFTER THE JUMP…