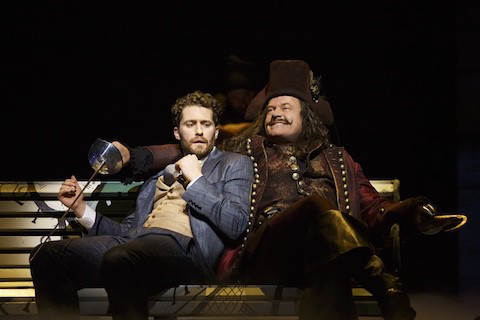 BY NAVEEN KUMAR
The plot of Finding Neverland, a new musical that opened on Broadway last night at the Lunt-Fontanne Theatre, doesn't promise many surprises. Google can tell you that (spoiler alert!) J.M. Barrie wrote Peter Pan, and that by the end of this story, he's going to do it. But, you may be surprised to discover that this adaptation (for which more than one beloved story has lit the path) could lose its way quite like this.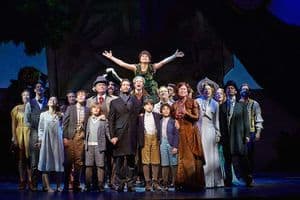 There's the proven affection for its source material — and not just for the much-celebrated 2004 movie by David Magee (or the much lesser-known play on which it's based, The Man Who Was Peter Pan by Allan Knee), but for the boy — or, more often, young woman — in the green tights. (Hey, didn't we just see her on TV?) And, there are the pedigrees of nearly everyone involved, including the film's producer Harvey Weinstein (in his first theatrical effort), Tony-winning director Diane Paulus, and stage and screen stars Matthew Morrison and Kelsey Grammer, among many others.
The movie's quietly imaginative story, about Barrie finding inspiration for the play in his relationship with a widow and her young boys, is scaled out for the stage with a book by James Graham, and amplified with middling pop musical stylings. The score, written by Gary Barlow and Eliot Kennedy, the songwriting duo whose success stories include the UK group Take That (of which Barlow is a current member and Robbie Williams a former one), has moments of cleverness, but far more moments of unabashed cheese. The act one finale shares its title refrain with anthems by both Kelly Clarkson and Britney Spears. (Quick: Name that tune!)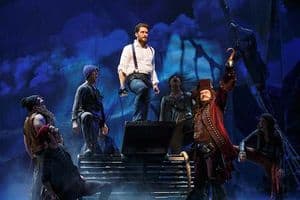 Morrison, late of TV's Glee and terrific when last on Broadway in South Pacific, is honey-voiced as ever, though he makes the business of playing make-believe seem quite sober; rather than a boy who never wishes to grow up, he is unequivocally the dispassionate adult in the room. As Barrie's producer, on the other hand, Grammer seems to harbor an inner smile behind every stern phrase, even when he's acting the sourpuss. (His turn as Captain Hook will almost certainly conjure up Christopher Walken flashbacks, and, yes, they even lob him a Cheers pun.)
But its marquee stars are just two of the many elements on stage that seem to have wandered in willy-nilly from different shows in the neighborhood. Evidence of Paulus' imaginative hand — responsible for acclaimed recent productions of challenging (if proven) musicals like Pippin and Hair — is occasionally evident, and one glittering moment of stage magic knocks the air from the room. But the production's madcap tone rarely coheres (in this respect, Mia Michaels' strange and spasmodic choreography seems bizarrely appropriate).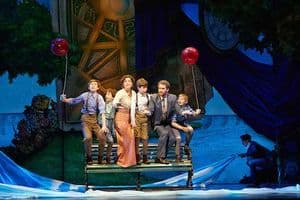 The danger of trudging up familiar stories is not just coming off as unoriginal (with so many layers of adaptation going on here, that was a given), but ringing cliché — which Finding Neverland does at nearly every turn. The musical's frequent allusions to Peter Pan more often serve as punch lines or cues for audience purrs than compelling points along the way to the play's writing. Whether the 9 million viewers who watched the live telecast of Peter, Hook and the Darling clan a few months back enjoyed every minute or squirmed in their seats and found it hackneyed — they didn't have to shell out the price of a Broadway ticket to do it.
Recent theatre features… 
Ballet Meets Broadway in Dazzling New Musical 'An American in Paris': REVIEW
'90s Political Sex Farce 'Clinton the Musical' Opens Off Broadway: REVIEW
Possessed Puppet Comedy 'Hand to God' Opens on Broadway: REVIEW
Carey Mulligan and Bill Nighy Open in 'Skylight' on Broadway: REVIEW
Elisabeth Moss and Jason Biggs Open on Broadway in 'The Heidi Chronicles': REVIEW
Helen Mirren Reigns on Broadway in 'The Audience': REVIEW
Follow Naveen Kumar on Twitter: @Mr_NaveenKumar (photos: carol rosegg)