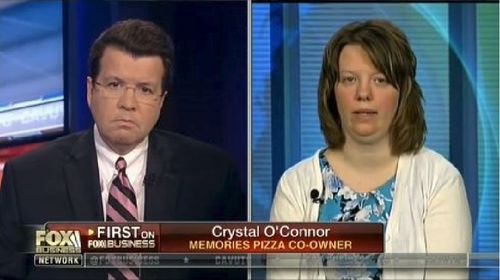 Speaking with Fox Business Network host Neil Cavuto last night, Memories Pizza owner Crystal O'Connor spoke out on the backlash (and support) she and her Walker, Indiana business have received after she was interviewed by a local television station saying she supported the state's "religious freedom" bill and would refuse to cater a gay wedding if asked to do so.
Crystal, who said she plans to reopen her restaurant soon after a brief shut down, added that while she doesn't have any gay friends she and her father "show no hatred" towards "the gays."
She also shared her thoughts on the GoFundMe campaign that has already raised over $500,000 in support of Memories Pizza.
Watch, AFTER THE JUMP…