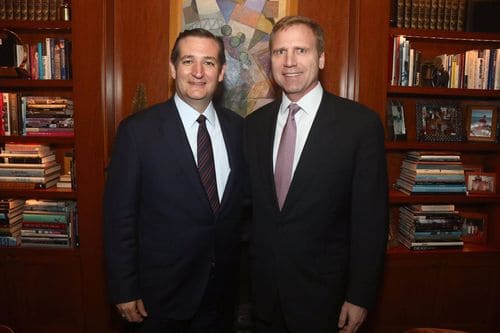 If you had to pick where Sen. Ted Cruz was last night, you could be forgiven for not guessing the NYC penthouse of two high-dollar homocons. After all, Cruz is the only 2016 presidential hopeful (so far) who kicked off his campaign by asking voters to imagine an America where gays forever stay second class citizens. 
As The New York Times points out, though, Cruz apparently knows the value of having big spenders on your team on the campaign trail, regardless of sexual orientation.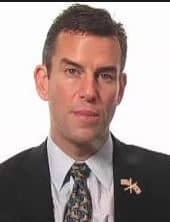 During the gathering, according to two attendees, Mr. Cruz said he would have no problem if one of his daughters was gay. He did not mention his opposition to same-sex marriage, saying only that marriage is an issue that should be left to the states.
The dinner and "fireside chat" for about a dozen people with Mr. Cruz and his wife, Heidi, was at the Central Park South penthouse of Mati Weiderpass (above) and Ian Reisner (right), longtime business partners who were once a couple and who have been pioneers in the gay hospitality industry.
Reisner, the owner of the OUT NYC hotel and nightclub complex near Times Square, recently purchased a commercial strip along the Fire Island Pines. Weiderpass and Reisner's penthouse apartment made headlines back in October when a 23-year-old Hell's Kitchen gay bar manager was found dead of a reported drug overdose in its bathtub. 
UPDATE: A Facebook page has been launched in the wake of the NYT article calling for a boycott of "[Fire Island Pines] Low Tea, Middle Tea, High Tea, the Pavilion, and Out NYC Hotel."