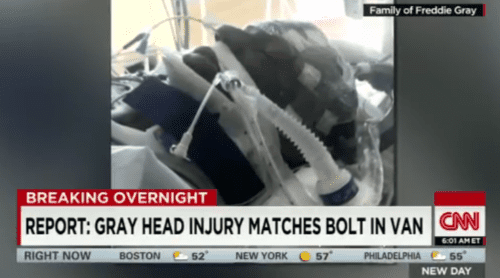 Six Baltimore police officers have been charged in the death of Freddie Gray, who died last month after being injured in police custody, The Baltimore Sun reports:
Officer Caesar Goodson Jr., 45, who was the driver of a police van that carried Gray through the streets of Baltimore, was charged with second-degree murder, assault, manslaughter, misconduct and other charges.
Officer William Porter, 25, and Lt. Brian Rice, 41, were charged with involuntary manslaughter.
Sgt. Alicia White, 30, was charged with manslaughter and involuntary manslaughter. Officer Edward Nero, 29, and Officer Garrett Miller, 26, were charged with assault and misconduct.
CNN adds: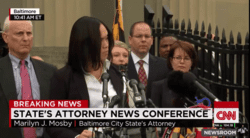 Baltimore State's Attorney Marilyn Mosby told reporters Friday that her office's investigation, coupled with a medical examiner's determination that Freddie Gray's death was a homicide, led her to determine there is probable cause to file criminal charges. 
Mosby said no crime was committed by Gray and that he was illegally arrested.
Gray's death triggered an avalanche of protests in Baltimore and more than one angry confrontation with news reporters.
Watch Mosby's news conference, AFTER THE JUMP…