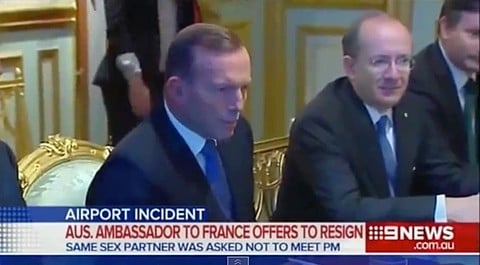 Stephen Brady, Australia's ambassador to France, offered his resignation this week after Prime Minister Tony Abbott sent advance instructions that Brady's partner of 32 years should wait in the car rather than join Brady to greet the PM on the airport tarmac in Paris, the Sydney Morning Herald reports:
According to multiple sources, the ambassador, Stephen Brady, was on the airport tarmac with his partner of 32 years, Peter Stephens, waiting to meet the incoming plane around 7pm Paris time.
The prime minister's travelling party sent an instruction that Mr Stephens should not take part in the greeting but should wait in the car. It is understood that no explanation was given.
The ambassador, a career diplomat and formerly the official secretary to two governors-general, refused the instruction.
Abbott's office has denied there was any controversy at the airport, AFP adds:
According to the Herald's sources, Brady was "literally screaming" at the protocol officer who passed on the request. Brady reportedly refused, took Stephens along to meet Abbott and later offered his resignation to the foreign affairs department, but it was rejected, the report said.
A spokesman for Abbott told AFP "the prime minister was very happy to have been met by ambassador Brady and his partner when he arrived in Paris".
The SMH adds:
One theory doing the rounds on Tuesday night was that it was simply a matter of protocol. Mr Abbott was not accompanied by his wife Margie and therefore it was not protocol for Mr Brady's partner to be present.
Mr Brady, a career diplomat with the Department of Foreign Affairs, was said to be furious with the request for his partner to wait in the car. He was, according to sources in Paris, "literally screaming" at the protocol person.
Watch a report on the incident from 9 News Australia, AFTER THE JUMP…