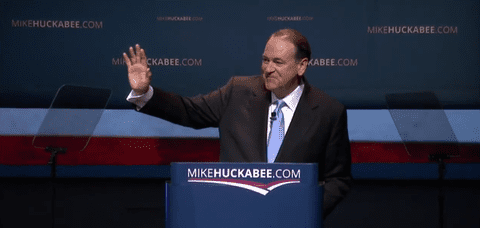 The former Arkansas Governor today announced his second Presidential bid while speaking from his hometown of Hope, Arkansas. The town is also home to former President Bill Clinton. A point of origin is about all these two men share, however, as many, including Huckabee, were quick to point out. Huckabee made an unsuccessful bid for the White House in 2008, using his strong following among Evangelical Christians to catapult him to success in the Iowa Caucus and finish a strong second in the South Carolina primary. He would go on to lose the Republican Party's nomination to Senator John McCain who was of course defeated by Barack Obama and his message of "hope." Indeed, "hope" was center stage during today's announcement in more ways than one. After frequently name-dropping his home-town and his connection to it, he went on to talk about President Obama and what he termed as the president's failure to deliver on his message of hope and change:
"You know it was 8 years ago that a young, untested and virtually unknown freshman senator made great speeches about hope and change. But eight years later our debts more than, and the country is more polarized than ever in my lifetime…we were promised hope. But it was just talk."
The Clintons also figured squarely in Huckabee's speech. He noted that he came to power in Arkansas at a time when the state was dominated by the "Clinton machine" and it was that experience which taught him to be a leader:
"I governed in a state that was the most lopsided and partisan in the country," he told supporters. "No Republican governor had more Democrats and fewer Republicans. I challenged the deeply entrenched political machine that ran this state. It was tough sledding, but I learned how to govern and how to lead."
As the AP notes, "Huckabee sees himself as an economic populist and foreign affairs hawk who still holds deeply conservative views on social issues such as abortion and gay marriage." That image seems to match public perception.
Just last week, speaking of the Supreme Court's consideration of whether to overturn all same-sex marriage bans as unconstitutional, Huckabee commented,
"I respect the courts, but the Supreme Court is only that – the supreme of the courts. It is not the supreme being. It cannot overrule God. And when it comes to prayer, when it comes to life, and when it comes to the sanctity of marriage, the court cannot change what God has created."
Watch Huckabee's announcement, AFTER THE JUMP…