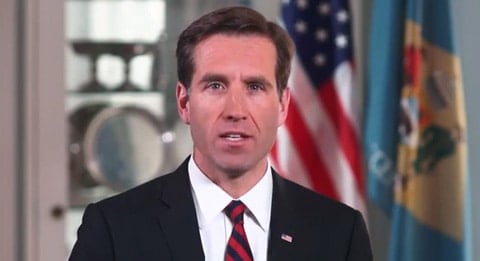 This morning the nation grieves after hearing last night of the loss of Beau Biden, 46, a rising political star and gubernatorial hopeful in Delaware and the eldest son of Vice President Joe Biden, after a battle with brain cancer, a tragedy that seems graver and more heartbreaking in the face of the multiple familial losses the Vice President has had to endure over the years.
Biden's first wife, Neilia, and young daughter were killed in a 1972 car accident and the three remaining family members survived.
Said the Biden family in a statement about Beau, an Iraq war veteran and Bronze Star recipient:
"It is with broken hearts that Hallie, Hunter, Ashley, Jill and I announce the passing of our husband, brother and son, Beau, after he battled brain cancer with the same integrity, courage and strength he demonstrated every day of his life. In the words of the Biden family: Beau Biden was, quite simply, the finest man any of us have ever known."
Beau tweeted a similar sentiment on VP Biden's birthday last November:
Happy Birthday to the best coach I could have asked for. Love you Pop. #TBT pic.twitter.com/LPf2QxuE9h

— Beau Biden (@BeauBiden) November 20, 2014
President Obama released the following statement:
Michelle and I are grieving tonight. Beau Biden was a friend of ours. His beloved family – Hallie, Natalie, and Hunter – are friends of ours. And Joe and Jill Biden are as good as friends get.

Beau took after Joe. He studied the law, like his dad, even choosing the same law school. He chased a life of public service, like his dad, serving in Iraq and as Delaware's Attorney General. Like his dad, Beau was a good, big-hearted, devoutly Catholic and deeply faithful man, who made a difference in the lives of all he touched – and he lives on in their hearts.

But for all that Beau Biden achieved in his life, nothing made him prouder; nothing made him happier; nothing claimed a fuller focus of his love and devotion than his family.

Just like his dad.

Joe is one of the strongest men we've ever known. He's as strong as they come, and nothing matters to him more than family. It's one of the things we love about him. And it is a testament to Joe and Jill – to who they are – that Beau lived a life that was full; a life that mattered; a life that reflected their reverence for family.

The Bidens have more family than they know. In the Delaware they love. In the Senate Joe reveres. Across this country that he has served for more than forty years. And they have a family right here in the White House, where hundreds of hearts ache tonight – for Hallie, Natalie, and Hunter; for Joe and for Jill; for Beau's brother, Hunter; his sister, Ashley, and for the entire Biden clan.

"I have believed the best of every man," wrote the poet William Butler Yeats, "And find that to believe it is enough to make a bad man show him at his best or even a good man swing his lantern higher."

Beau Biden believed the best of us all. For him, and for his family, we swing our lanterns higher.

Michelle and I humbly pray for the good Lord to watch over Beau Biden, and to protect and comfort his family here on Earth.
Beau Biden was also a champion for LGBT equality, declaring in a 2013 video: "All Delawareans should be able to marry the person they love, the person who they want to spend their life with. The freedom to marry is the fundamental, defining civil rights issue of our time."
In a video made shortly thereafter, Biden urged state lawmakers to pass legal protections based on gender identity: "I support providing protections from violence and discrimination based on gender identity and expression under Delaware law. I will work with our General Assembly to pass legislation that will provide such protections this year."
Towleroad sends its thoughts to the Biden family as well as all those grieving this terrible loss.