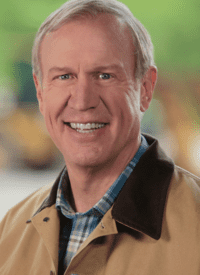 The Illinois Senate followed in the footsteps of the Illinois House and passed a measure this week that if signed into law will ban the dangerous practice of conversion therapy for minors reports The Chicago Tribune. Republican Gov. Bruce Rauner (right) declined to comment yesterday on whether he would sign the bill into law. 
The bill's proponents argue that the practice is discredited by mental health organizations and that its use leads to depression, mental health issues and suicidal thoughts in its patients.
However, opponents of the bill, many of them Republican lawmakers, believe the bill restricts youth from actively seeking help for unwanted same-sex attractions and undermines parents' rights in raising their children according to their own wishes. Republican Sen. Matt Murphy issued a rather ironic comment opposing the bill's passage:
"We don't need to be in the middle of this…This feels a little preachy to me. This feels a little holier-than-thou, to be candid."
Therapists, psychologists, social workers and counselors that are caught using the practice with the ban in effect are subject to monetary fines, probation or face getting their license revoked, either temporarily or permanently. 
California, New Jersey, Oregon and Washington D.C. have all banned the discredited practice. 
Watch WGN9 News coverage for more about the bill's passage in the Illinois Senate, AFTER THE JUMP…(warning: autoplay)