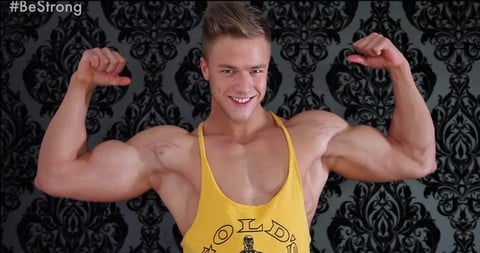 YouTube vlogger Davey Wavey teamed up with frequent collaborator Raymond Braun to talk about their own experiences being bullied as kids and also to talk with straight bodybuilders to find out what they think about bullying. The results prove what bodybuilder Brad Rowe said best, "You can't look at [bodybuilders] and think, typical meat heads: pick things up and put things down."  These bodybuilders show that true strength comes not from tearing people down but from helping other people and being true to yourself. 
In an extended Director's Cut, Davey Wavey spoke about why he wanted to speak to bodybuilders in particular about this issue:
"Part of why I think this video is important, is the kids at home who are the bullies, who do they look up to? It's professional athletes, it's bodybuilders, and here are these people who are really symbols of strength in every sense of the word saying that what makes you strong is helping others and that bullying is actually a sign of weakness. That's a powerful message." 
Watch the video, along with the extended cut, AFTER THE JUMP…