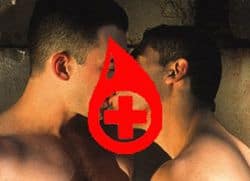 Earlier today, we told you about the upcoming report from the Food and Drug Administration (FDA) that was expected to revise the stringent regulations banning gay men from donating blood in the U.S. That report was released by the FDA today and as expected, advocates for a roll back of the lifetime ban on blood donations from gay men. In the announcement, the Obama administration acknowledged that the current policy "is perceived by some as discriminatory." 
The proposed new guidelines will still ban gay men from donating blood if they have had sex with another man in the past year.
Critics of the ban, which was enacted during the national AIDS epidemic in 1983 and last updated in 1992, say it ignores mounds of scientific evidence concluding that blood donations pose no risk than the greater public if properly screened.
The FDA said in its draft rules the ban has become less effective over time, admitting that "some individuals knowingly donate despite the deferral."
The agency will now collect public comments on the rule for 30 days. 
The American Medical Association quickly praised the move, releasing a statement that called it "a step in the right direction to end the lifetime ban that prohibits men who have had sex with men (MSM) from ever donating blood."
Groups such as the American Red Cross and America's Blood Centers have also voiced support of the policy change, calling the ban "medically and scientifically unwarranted."
Read the new proposed blood donation guidelines, AFTER THE JUMP…