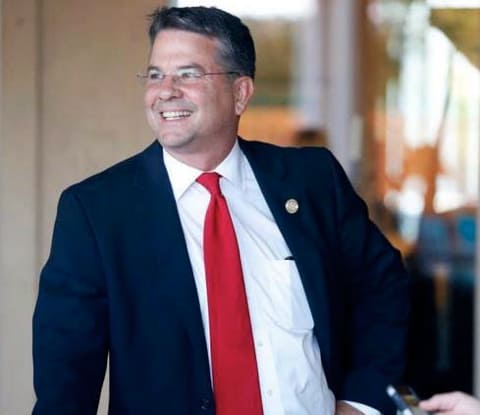 A stripper in Oklahoma is seeking a protective order against one of Texas' most anti-gay lawmakers, accusing him of stalking her. 
Sen. Charles Perry, R-Lubbock, is the author of one of several Texas bills that seek to undermine a potential ruling from the U.S. Supreme Court in favor of nationwide marriage equality. At his swearing-in last year, Perry compared America's current "spiritual battle" to the Holocaust. 
The Associated Press reports on the stripper's request for a protective order against Perry:  
The clerk in Creek County, Oklahoma, confirmed Tuesday that a request for an order had been issued against Sen. Charles Perry of Lubbock, Texas.

The clerk said the document couldn't be released since it hadn't yet been served.

But the woman seeking the protective order posted a photo of it on Twitter, where she describes herself as dancer at a gentlemen's club.
Here's the woman's tweet:
@maddow Protective order filed against TXState Senator Charles Perry. Tired of it already.Want him2leave me alone. pic.twitter.com/dKqfJ3eq8b

— Alana (@TipAStripper) May 11, 2015
Although it hasn't gotten a hearing, Perry's anti-gay marriage bill is similar to a proposal from GOP Rep. Cecil Bell that is expected to be voted on by the Texas House this week. From Perry's press release about the bill in February: 
LUBBOCK, TX – Today, Senator Charles Perry filed SB 673 (The Preservation of Sovereignty and Marriage Act) to protect traditional marriage and reaffirm Texas sovereignty under the 10th Amendment to the U.S. Constitution. … 

SB 673 centralizes the process of obtaining marriage licenses to a single Texas entity, the Secretary of State. This will ensure uniformity and prevent noncompliant individuals within a county from issuing marriage licenses that do not conform to state law.

"The officiate of a marriage ceremony already says 'By the power vested in me by the great State of Texas'," continued Perry. "My bill simply gives this statement some teeth and places marriage under the purview of the state. I look forward to working closely with stakeholders to ensure the final version of this bill is strong and provides robust protection of marriage as defined by the Texas Constitution."
In March, at an anti-gay marriage rally featuring Alabama Chief Justice Roy Moore at the Capitol, Sen. Perry introduced his pastor to speak. From The Texas Observer: 
Sen. Perry, who along with Rep. Bell has filed legislation seeking to prevent Texas clerks from issuing marriage licenses to same-sex couples, introduced his pastor, Rev. David Wilson of Southcrest Baptist Church in Lubbock. Perry said the nation needs a revival that starts from the pulpits, and Wilson backed that up with a fiery speech.

"If humans invented marriage, then polygamy, the taking of several wives, polyandry, the sharing of a wife by several husbands, same-sex marriage, marriage between an adult and a child, marriage between relatives, might seem normal and acceptable," Wilson said. "But if man created marriage, then monogamy, the lifelong union of one man to one woman, would have no more intrinsic value than any other type of marriage. But marriage is not human invention, it is God's design."
According to Perry's website, he's a deacon in the church and has been married to his wife for 32 years. 
UPDATE: EverythingLubbock.com identified the woman as Cindy Ortiz: 
Ortiz wrote in an email, "Mr. Perry has hacked my computer, email accounts, social media accounts and used that private information to interfere with relationships and work."

Ortiz also wrote, "Mr. Perry will never admit to these activities."

"Mr. Perry has been asked repeatedly, verbally and in writing to cease and desist these activities to which he replies, 'I can't,'" Ortiz said.