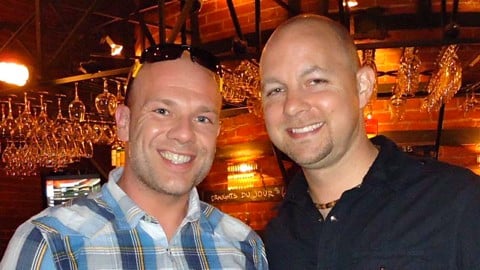 Four years after baggage handlers removed a sex toy from a gay couple's luggage and taped it to the outside of one of their bags, their federal lawsuit against Continental Airlines is finally going to trial this week. 
The Houston Chronicle reports: 
Christopher Bridgeman and Martin Borger filed the suit after a trip to Costa Rica in May 2011. They returned to the United States on a Continental flight through Houston's Bush Intercontinental Airport, cleared customs and rechecked their bags for the domestic trip home to Norfolk, Va.

Upon retrieving their belongings, they discovered an unexpected object taped between the zipper of one piece of luggage: A purple sex toy. The Virginia couple's 2012 federal lawsuit, filed in Houston, alleges that the device had been removed purposefully from the duffle and slathered with a greasy, foul-smelling substance to embarrass them. The petition claims the airline's baggage handlers intentionally inflicted emotional distress and invaded their privacy by searching through their luggage.
Reports about the incident, with many featuring photos of the sex toy, went viral after the couple's lawsuit was filed. From an NBC News story in 2012: 
Onlookers began laughing when they saw the bag, causing the men severe emotional trauma, according to the lawsuit.

Bridgeman speculated an airline employee went through the bag — which was closed with a simple zipper — found the sex toy, saw that it belonged to a man and decided to humiliate the owner.

"I absolutely, fervently believe that this was intentional," Bridgeman, 34, told NBC News. "It was very sick and it was very wrong and it was just maliciously taped to the top and targeted because we're gay."
A district judge initially dismissed the case, but it was reinstated by an appeals court. Continental's new parent company — United Continental Holdings — has continued to unsuccessfully attempt to get it thrown out. From the Chronicle:  
The lawsuit claims that Bridgeman and Borger "experienced extreme shock and horror" when they saw their toy exposed and "when observing the surprised and/or laughing faces of numerous onlookers in the baggage claim area."

The men, who are in their 30s, claim that they experienced "such a high degree of shock and embarrassment that they felt compelled to call two friends to come to the airport to assist them."

According to court records, Bridgeman, a real estate agent, and Borger, an architect, report that the incident caused them severe emotional distress that resulted in anxiety, paranoia, sleeping difficulties and body weight fluctuations.