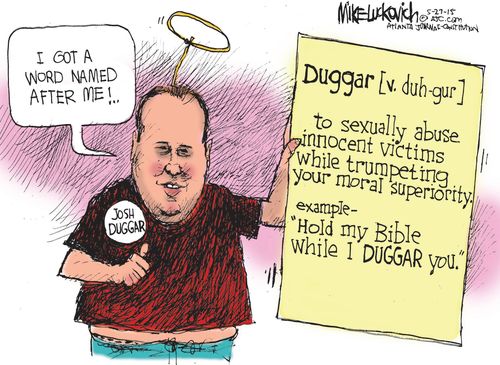 There are certain complex ideas regarding sexual hypocrisy that we just don't have singular words for in the English language. Being the proponent of exposing sexual impropriety that he is, Dan Savage has done a lot in the past few years to help make that lexicographical lacking.
With a handful of words and phrases like "Santorum," (the frothy mixture of lube and fecal matter that is sometimes the by-product of anal sex) and "Lifting Luggage," (when one pays for gay sex with rent boys. See: George Rekers) Savage has introduced a set of neologisms perfect for calling out modern instances of socio-political two-facedness. Following in the newfound tradition of turning scandalous public figures' names into euphemisms, it's only natural that the internet is now reconsidering the definition of "Duggar."
Clearly "duggary" needs to be a word. Should it mean sexual hypocrisy? Fundy hypocrisy? Child molestation? #duggary

— Dan Savage (@fakedansavage) May 26, 2015
In response to the revelation that the Duggar family knowingly attempted to hide the fact that Josh, the eldest Duggar son, molested a number of young girls including his sisters, there are calls to have Duggar (the word) come to reflect similar impropriety. Political cartoonist Mike Luckovich quickly sketched up a caricature of Duggar featuring him holding a sign with one of the many suggested new meanings for his family name that seems to be gaining traction.
Some have responded to the backlash negatively, arguing that redefining Duggar would unfairly punish the innocent members of the family who've done nothing wrong. As the faces of the contemporary Quiverfull movement, though, the heads of the Duggar clan have opened themselves up to public criticism much larger than Josh's offenses.
Sound off in the comments below–should we start redefining the meaning behind the Duggar name?
In related news, Hulu has pulled 19 Kids and Counting from its streaming service.