The Vatican is standing by its Secretary of State, Cardinal Pietro Parolin (pictured), after he responded to Ireland's marriage equality vote by calling it a "disaster for humanity," the Irish Times reports: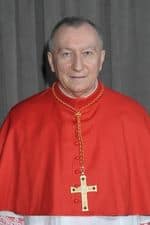 Senior Vatican spokesman, Father Federico Lombardi not only confirmed that Cardinal Parolin had used these words but he also indicated that the Vatican was sticking by them, word for word.
Pointing out that Cardinal Parolin had made his comment on the margins of a Vatican conference, Father Lombardi said that the Secretary of State had given his immediate reaction to the referendum result but that he had not had time or space to further elaborate his thoughts.
While the remarks may not have surprised observers had they come under the last Pope, Francis and the Holy See have occasionally surprised by taking a softer stance on social issues.
Ironically, the Pope's own catechesis (teaching) to pilgrims at his Wednesday public audience in St. Peter's Square on Wednesday morning dealt with the issue of the importance of an engagement as a preparation for marriage.
Throughout a long analysis of engagement prior to marriage, the Pope consistently referred to marriage as a sacrament, a "lifelong commitment between a man and a woman".