SPONSORED POST
In the new novel The Provocateur's Payback, author Paco Muñoz-Botas explores the sumptuous, sensual side of the Spanish high life. Though the eyes of his three main characters we're invited into a world of decadence, deception, and desire.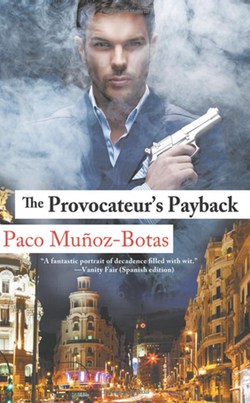 Despite his wealth and social status, sexually fluid Curro Morante finds himself in the throes of a months-long depression after a beloved member of his family dies. Eugenia Osorio, Curro's long-time friend and perennial flame, is at a loss as to how to try and help him through his pain while also searching for love.
Their friendship is both strengthened and put to the test when Dmitri Denissov, a mysterious Russian fighter suddenly enters their lives while fleeing from the mafia. A love triangle forms between the three almost instantly as Curro, Eugenia, and Dmitri try to make sense of their feelings for one another and keep one step ahead of the people hunting them.
Provocateur's Payback is a thriller crafted to lure readers into the fantasy of high-luxury and opulence, but at its core it's also a narrative drawn from Muñoz-Botas's own experiences as a gay, Spanish man. We sat down with Muñoz-Botas to discuss the book, the shifts he sees in the publishing world for queer writers, and where he sees his characters going next.
More and more LGBTQ writers are coming into their own and publishing novels that aren't necessarily queer fiction, but draw from their authors' experiences as queer people. How do you see the publishing landscape changing in Spain for queer writers?
I'm not all that familiar with how things are in the U.S., but in Spain nobody really cares if a writer is gay or not. Some of our most celebrated writers are gay, and they're working across multiple genres. I, personally, think of myself as being a writer and a gay man, but not a gay writer. Those identities influence each other, but they're separate. In my mind the most important thing for this new wave of writers is to have something to say–to look inside yourself and share your own experiences.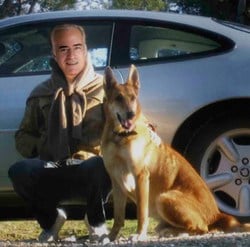 Can you speak more about that? How much of your life is written into Provocateur's Payback?
Well, I'm 58 years old; I've had quite a few experiences. Yes, some of them are in the book, but most of the story is built from the fantasies I've had in my life. I've never dealt with the Russian mob, but that became a part of my desire to write a thriller. This was less about random inspiration, and more about needing to heal. Ironically, this all came from my need to explore my feelings after the death of my dog, Trasto. His story is the part most connected to my own life. The rest is all fantasy.
Your three lead characters' motivations all stem from vastly different places. How do you piece their personalities and drives together as you're writing?
In my experience as a writer, characters take their own space. I never thought to give Curro that sense of importance; he took it on his own. It's the same way with the plot. I have general ideas, but it's about the characters developing on their own. Eugenia around Dima all the time and Dima sick of Eugenia–these things grow on their own and become the dynamics you see in the book.
It's interesting, then, that sexuality and sexual identity play such a large role in the way that the leads make sense of the people that they meet over the course of the book. Why is that?
The eroticism in Provocateur's Payback is very literary. Stylish, if you will; not very explicit. Honestly the sex in the book isn't really all that much about sex itself. It's about how the characters' motivations drive them towards one another. They think of it simply as attraction, but there's more there beneath the surface.
The depiction of queer culture in the book suggests that Spanish society has mixed feelings about LGBT people. Characters throughout the book seem both at ease and at odds with the fact that Curro's queer. How has Spain been evolving on the way that it relates to LGBT people?
Spain is a very tolerant country–one of the most tolerant countries in the world. Same-sex marriage has been legal for a decade, gay couples can adopt, and their marriages have all the same rights as straight ones. Still though, there's a degree of hypocrisy in Spanish society that isn't all that unique. The different points of view that different characters have reflect the many positions that people in Spain take regarding gay people, because that's reality.  
The Provocateur's Payback is available on Amazon.com.
SPONSORED POST