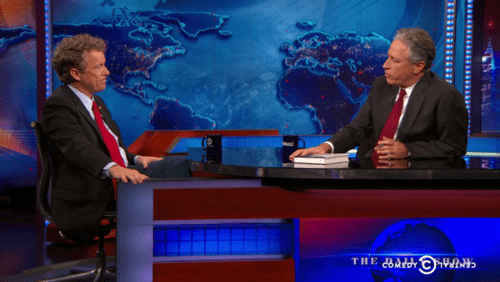 Libertarian favorite and 2016 presidential candidate Sen. Rand Paul sat down with Jon Stewart on Tuesday's The Daily Show to chat about his new book and his recent "filibuster" against NSA spying.
In the ensuing discussion on the hypocrisy of the GOP saying it's opposed to big government while supporting the surveillance state, Stewart brought the parallels between these inconsistencies and the "religious liberty" argument against same-sex marriage that is currently a favorite among many Republican (including Paul).
"You portray it as well we don't want to force people to have to agree with your beliefs," said Stewart. "But we're not, we're asking them to do the thing that they do for their business."
Attempting to demonstrate how the issue is a "freedom"debate at its core, Paul pointed to the Lexington-based printing company found guilty of violating the city's nondiscrimination ordinance for its refusal to print gay pride t-shirts back in 2012 (a county circuit judge later ruled in favor of the print shop). 
Stewart, however, still wasn't buying the "freedom" argument:
"It seems like gay marriage looms a lot larger in the minds of certain conservatives than it does in the Bible. And the only thing I would say is, don't they sell cakes to sinners all the time? Adulterers? When you come in do you go 'I'd like a cake,' and they go 'Do you use the name of the Lord in vain?' How do you figure that out? It feels disingenuous."
Watch, AFTER THE JUMP…
Gay marriage talk starts in Part 2