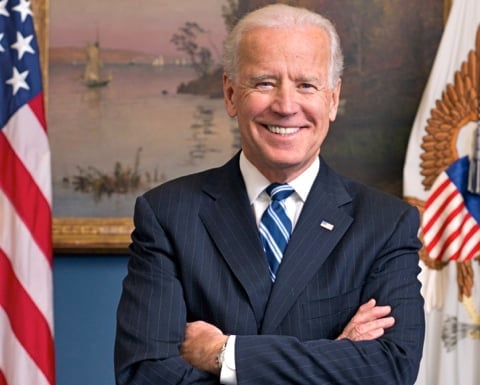 If the U.S. Supreme Court rules in favor of nationwide marriage equality in June, Obergefell v. Hodges will be remembered alongside the landmark civil rights case Brown v. Board of Education, according to Vice President Joe Biden. 
Biden made the statement Saturday night during his keynote speech at the Gill Foundation's annual OutGiving Dinner in Dallas, which was also attended by attorney Mary Bonauto of Gay & Lesbian Advocates & Defenders, who argued for the Obergefell plaintiffs at the high court last week. 
"If the court does the right thing, this is going to be as consequential, and Mary [Bonauto] is going to be as remembered as Brown versus school board and Thurgood Marshall, it's that fundamental," Biden said, referring to the NAACP's lead counsel in Brown, which ended state-sponsored segregation. 
Biden credited the LGBT community for the dramatic cultural shift of the last decade, pointing out that in 2004, 11 states passed same-sex marriage bans when President George W. Bush was re-elected. Today, same-sex marriage is legal in 37 states that are home to 224 million Americans, Biden said. 
"It's because so many of you, men and women in this room of character and consequence, were willing to step forward early, risking your positions, risking in some cases your physical security. You stepped up and you spoke out," Biden said. "You've changed the basic politics of this nation, because of all that you've done."
But there is still work to do, Biden said, noting that polls show nine in 10 Americans believe it's already illegal to discriminate against LGBT workers, when in fact only 22 states have banned it — which he said "shocks the conscience." He added that 15,000 LGBT youth are homeless, largely because of family rejection, and that LGBT students are twice as likely to be bullied in school. 
Biden said after he recently came out in favor of banning gay conversion therapy, he received 790,000 emails.   
"Folks, the American people are with us," he said. "The momentum is with us. This is no time to let up." 
Listen to audio of Biden's remarks, beginning at the 41:00 minute mark, AFTER THE JUMP …