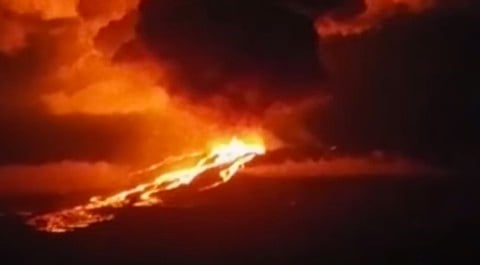 Wolf Volcano on The Galapagos Islands has erupted causing concerns over the islands' precious eco-system. Fortunately, many rare species seem to be safe for the time being, though scientists and conservationists are monitoring the situation. ABC News reports:
The volcano, which erupted for the first time in 33 years, is on Isabela Island, the largest in the Galapagos. Ecuador's Galapagos National Park administration told ABC News the eruption could be seen for miles.
The many rare species found on the island — including pink iguanas — are not currently at risk because of the direction in which the lava is flowing, ABC News reports.
Years after visiting the islands, Charles Darwin based his theory of evolution on his observations made in the Galapagos islands. His theory changed the islands forever, according to the Galapagos Conservatory.
Watch stunning videos of the eruption, AFTER THE JUMP…
Isabela Island's #Wolf volcano started an eruption this morning. #Galapagos Photos: Diego Paredes, naturalist guide. pic.twitter.com/OlAxm1d3Wp

— Ecuador Wonders (@ewonders2011) May 25, 2015