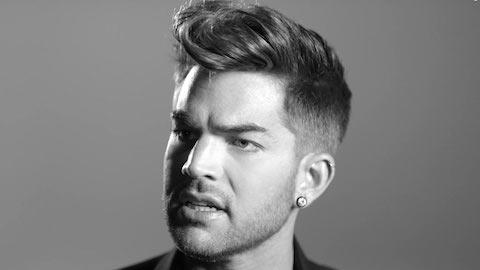 Looking back at the stir Adam Lambert caused with his flamboyant persona back in 2009, the media storm that followed the singer since his debut on American Idol seems like so long ago. The singing reality competition was still a ratings juggernaut at the time, and the glam rocker's performances (and personal life) permeated cultural conversation.
Lambert's impressive vocal abilities garnered praise from even the most sour Idol judge, but it was his unique style that worked conservative commentators like Bill O'Reilly and Elisabeth Hasselbeck into a lather. The "is he or isn't he?" fascination seems almost quaint now, but the swirling rumors and old photos brought up questions about the viability of an out gay pop artist.
Both Idol's notoriously hush-hush treatment of LGBT contestants and Lambert's own forthrightness about his sexuality played out oddly in the media, with Lambert never outright denying that he was gay. However, there was some degree of obfuscation. Lambert ran afoul of Out Magazine in November 2009 for allegedly making demands for how he was portrayed. There was also a strange spread in Details Magazine with Lambert getting intimate with a naked woman. The season-eight runner-up set the record, ahem, straight with a Rolling Stone interview and segment on 20/20.
While he took a winding road from his introduction to mainstream audiences to being an out performer, once he embraced his sexuality, he made quite an impact. His now infamous performance at the 2009 American Music Awards featured him rubbing a male dancer's head into his crotch and kissing his male keyboardist. The performance pushed networks and audiences to confront the double standard of gay male artists displaying sexuality on stage.
Lambert has gone on to a successful solo career, becoming the first openly gay artist to have an album reach number one on the Billboard 200 chart. He's also toured with Queen, performing vocals in place of their legendary singer Freddie Mercury.
As a member of the LGBT community, he's worked with The Trevor Project, the Olena Pinchuk ANTIAIDS Foundation, Marylanders For Marriage Equality, Life Ball and Broadway Cares/Equity Fights AIDS.
See more of Lambert's career highlights below.
Lambert first made his mark as the runner-up on season eight of American Idol. On a competition that regularly rewarded mainstream appeal, Lambert was a refreshing presence. His dark, theatrical style was in stark contrast to bland balladeer (and eventual winner) Kris Allen. Though he didn't take the top prize, he still had some of the most memorable performances, including "Mad World," above.
On Nov. 22, 2009, Lambert took the stage at the American Music Awards. His controversial performance caused ABC to cancel his appearance on Good Morning America the following day. Instead, he appeared at CBS on The Early Show, where they blurred a still of him kissing his keyboardist, but showed an unaltered picture of Britney and Madonna kissing.
https://www.youtube.com/watch?v=mHRxji4p1rs
As Elliot "Starchild" Gilbert, Lambert joined the Glee ensemble in the show's fifth season. His notable performances included a cover of Heart's "Barracuda," a duet of "I Believe In A Thing Called Love" with Chris Colfer and the rendition of Lady Gaga's "Marry the Night" above.
https://www.youtube.com/watch?v=AzG0HBFRJnk
After receiving comparisons to the powerful, charismatic performer Freddie Mercury, Lambert fronted the classic rock band Queen for a string of performances, including appearances at the 2013 iHeartRadio Music Festival, on X Factor in the United Kingdom and in a string of sold-out arena shows around the world.
Lambert's next album, The Original High, will be released Tuesday. Check out the Hype Williams produced video for the single, "Ghost Town" above.
Are you a part of the Glambert Fan Army?