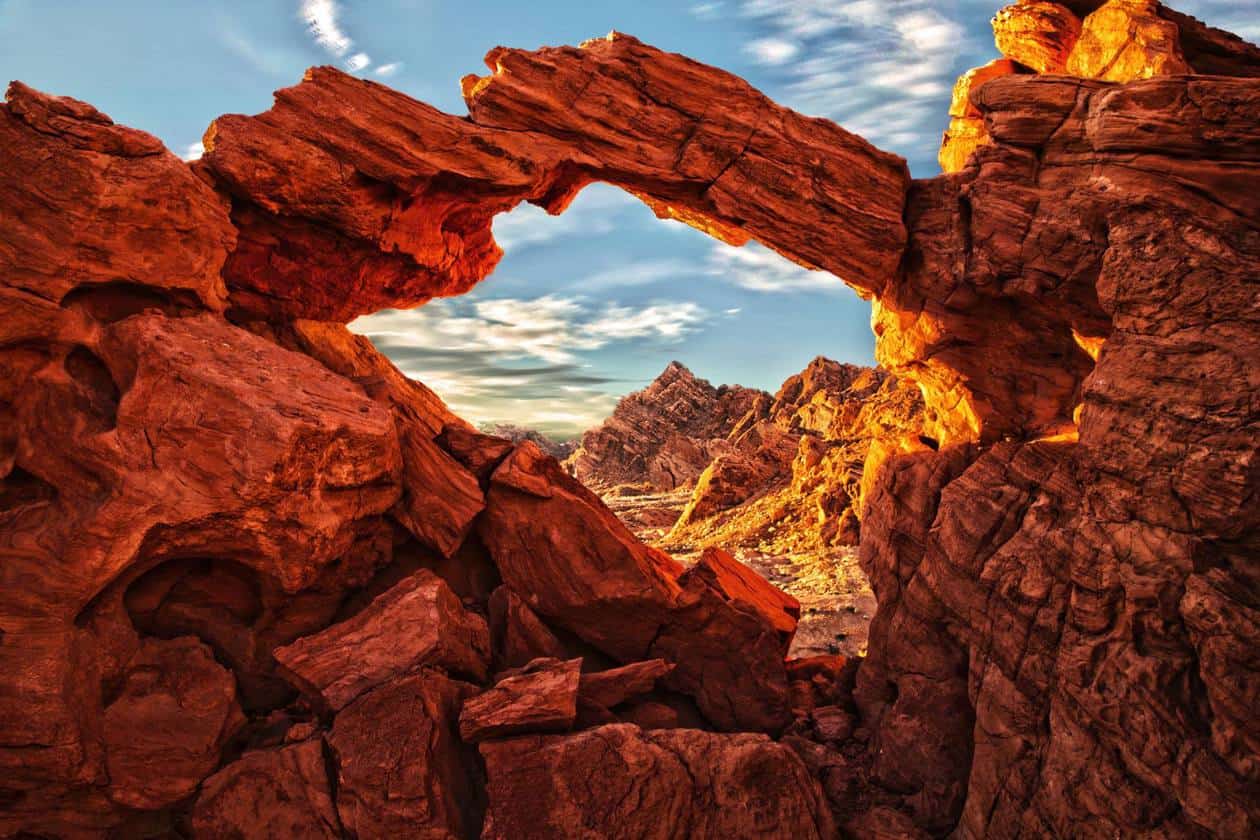 Las Vegas has plenty to offer LGBT travelers by way of nightlife, dining, luxe hotels, great events, and a host of places to tie the knot. But LGBT visitors also flock to Vegas for its many outdoor activities.
Whether you're a nature-lover, a pool-goer, or a sight-seer, check out our guide to the best Vegas has to offer by way of the great outdoors below:
Hike and Explore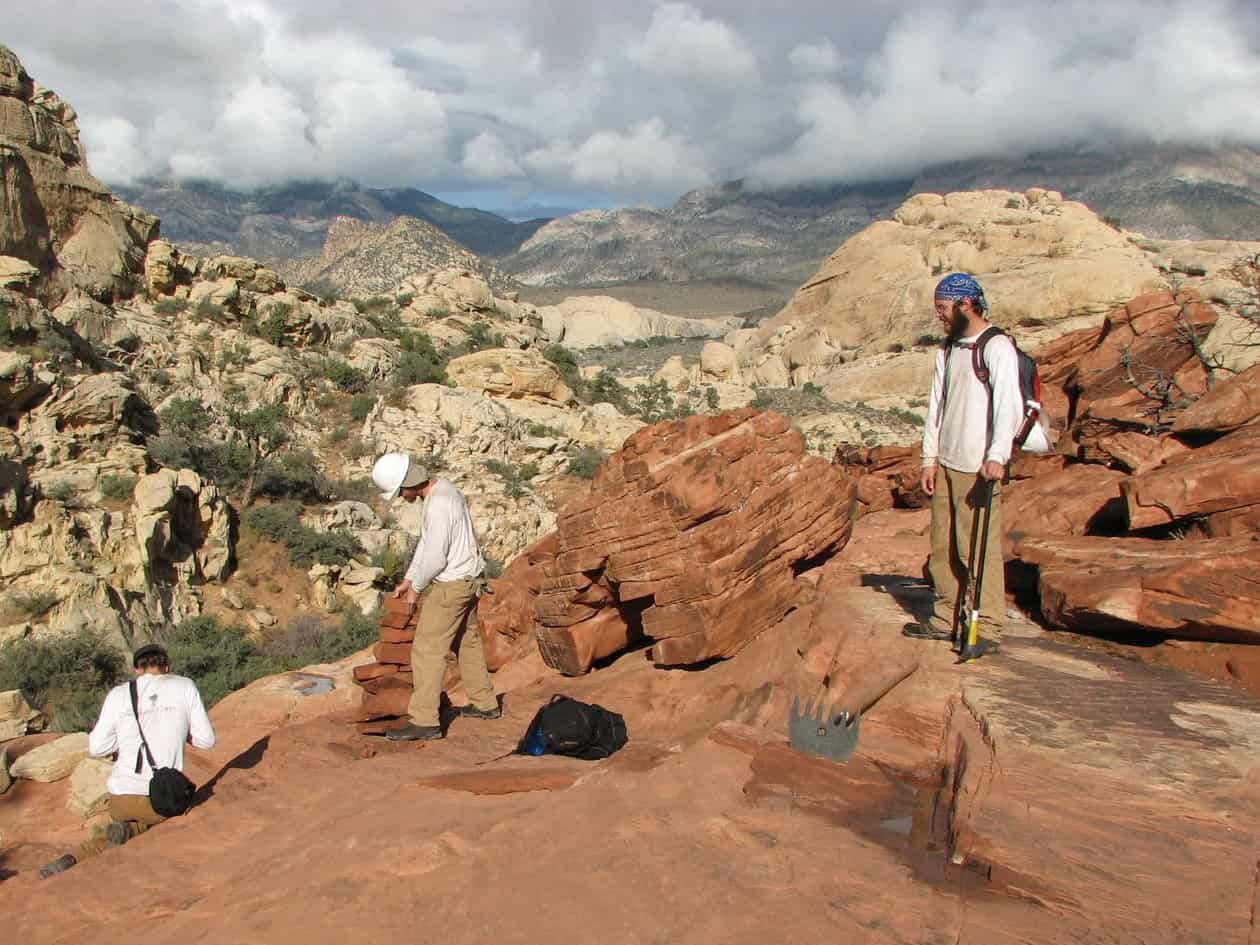 Start your outdoor adventure at Red Rock Canyon National Conservation Area. Just a few miles west of Las Vegas, this park has a whopping 195,819 acres of natural beauty situated within the Mojave Desert. Exploring the park's extensive trail system, you'll discover the park's eponymous geological formations and beautiful wildlife. You can also take a scenic drive through Red Rock Canyon, allowing you to take in more sight-seeing in a single day.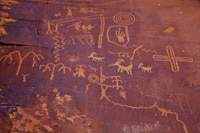 Further north lies Valley of Fire State Park. It's Nevada's oldest state park, named for the rock formations that appear to catch fire when the light hits them just right. The natural wonders here date back 150 million years to the time when dinosaurs roamed free. You'll want to check out the rock art left behind by the Anasazi who once came here to hunt, gather and hold religious ceremonies.
Grand Canyon Tours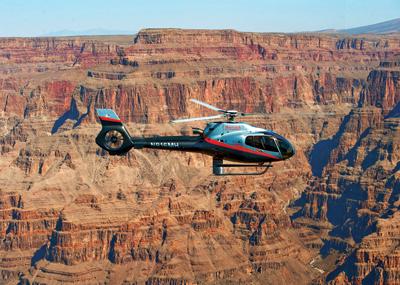 Getting to the Grand Canyon is easy when staying in Vegas. Helicopters, planes, Hummers, VIP mini coaches, pontoon boats and ATVs are all at your disposal to tour one of nature's most majestic sites. While the Grand Canyon's south rim is open all year long the north rim is open only from mid-May to mid-October, making now the perfect time to go.
The Ultimate Pool Destination 

Temptation Sundays at the Luxor (above), one of the biggest ongoing gay pool parties happening on the Strip, plays host to gay visitors and locals alike every Sunday from 1-7 PM now through September 27. Named Vegas' best gay party last year, the Luxor Pool brings in resident and guest DJs and a full calendar of events to keep pool-goers entertained. If you're looking for a more serene pool experience, check out the two outdoor pools at Four Seasons. With one pool dedicated as adults only, the Four Seasons guarantees tranquility and elegance. Meanwhile, the Palms Pool and Dayclub, a two acre pool complex with three bars, 27 cabanas, DJs, live music, a wading pool, capacity for up to 3,000 and ultra posh two-story bungalows each with its own private lawn, pool, fireplace and bedroom, embodies the maxim that "bigger is better."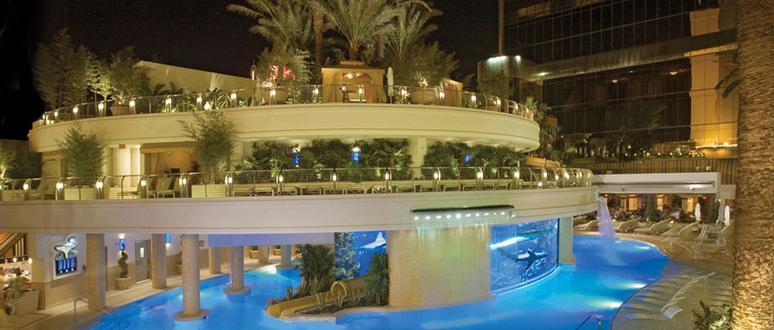 The Tank and Hideout Pools at Golden Nugget (above) in the city's downtown neighborhood are perfect for 'Shark Week' lovers, with a giant shark tank in the middle of the pool. Guests can take a ride through the tank in a waterslide that descends three stories into the pool below. Head to the Flamingo GO Pool for a tropical oasis of pools connected by lagoons that surround a cascading waterfall. If, on the other hand, you're feeling more in the mood for an Italian retreat, Bellagio's five luxurious pools will make you feel as if you're at a Roman villa. Hand-carved Italian-style stone fountains and Mediterranean-designed tile ornament the grounds. Misting systems will keep you cool at the whirlpools, cabanas, and Pool Café when the temperature spikes.
Outdoor Dining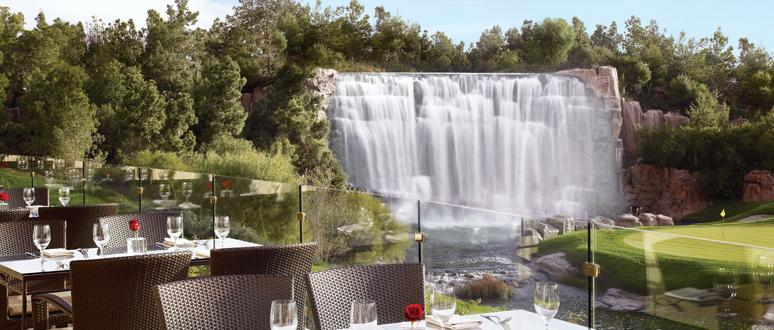 Al fresco dining on the Strip feels like dining on the Champs Elysees when you're at Mon Ami Gabi at Paris Las Vegas, a bistro en francais. Border Grill at Mandalay Bay Resort & Casino meanwhile features bold and authentic Mexican flavor cuisine from Chefs Mary Sue Milliken and Susan Feniger which you can enjoy under the palms on the restaurant's patio for lunch or dinner. But if a view is what you're looking for, look no further than The Country Club at Wynn Las Vegas. This contemporary take on the American steakhouse helmed by James Beard-nominated Chef Carlos Guía provides breathtaking views of the Wynn Golf Club's fairways and 18th hole waterfall.
Attractions Galore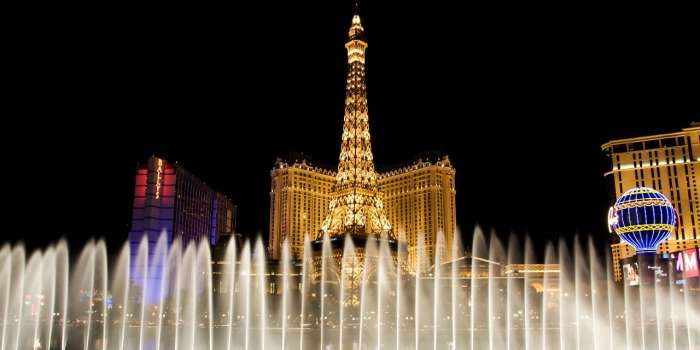 Vegas' shows and attractions don't only take place indoors. The famous Fountains of Bellagio offer a complimentary water show unlike any the world has ever seen. Taking place throughout the day and night, the fountains dance to a variety of music, including everything from Pavarotti to Tiësto to Sinatra. For outdoor shopping, head to the Downtown Container Park. Made completely of shopping containers stacked upon each other, this venue boasts boutiques, restaurants, and a kids play area within striking distance of vibrant Fremont Street. Cap off your Vegas experience with the Eiffel Tower Experience at Paris Las Vegas. Ascend 450 feet into the air and take in the city's landmarks on this half-sized replica of the Parisian original.