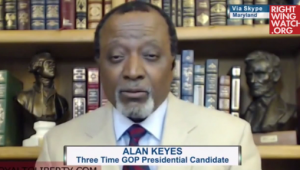 GOP conspiracy theorist Alan Keyes has said that the murders at Emanuel African Methodist Episcopal Church in Charleston, South Carolina last week was an incident of pro-gay, anti-Christian violence, reports Right Wing Watch.
Keyes – who has compared homosexuality to eating boogers – said that he has experienced more animosity due to his religious beliefs than to his race.
This led him to conclude that the massacre must have been caused by religious hostility and is therefore another example of the "persecution" of Christians.
He went on to claim that the notion the attack was racially motivated is a "storyline…fabricated without much regard for the facts."
He added that Dylann Roof, the white supremacist responsible for the shooting, may have been trying to "intimidate" people who oppose "the destruction of traditional marriage."
Watch the interview in which Keyes made the comments below.
https://www.youtube.com/watch?v=j-3dUTs80l8
(Image via Wikimedia Commons)