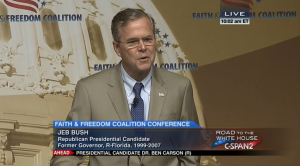 Presidential candidate Jeb Bush is vowing to continue the fight against gay marriage regardless of the Supreme Court's decision in the Obergefell v. Hodges case. Bush issued his defiant proclamation last week at Ralph Reed's Faith and Freedom Coalition's Road to Majority Conference in Washington, D.C., and urged that religious conservatives views need to be protected:
"We need to make sure that we protect the right not just of having religious views, but the right of acting on those views…This conscience should also be respected when people of faith want to take a stand for traditional marriage. In a country like ours we should recognize the power of a man and a woman loving their children with all their heart and soul as a good thing, as something that is positive and helpful for those children to live a successful life…It's got to be important over the long haul, irrespective of what the courts say.
Bush's strictly anti-gay views on marriage and purveyor of "religious freedom" is becoming a staple of his running platform, with the former governor of Florida asserting his position on the matter in several speaking engagements over the last few months.
Religious freedom talk begins around 9:50 mark