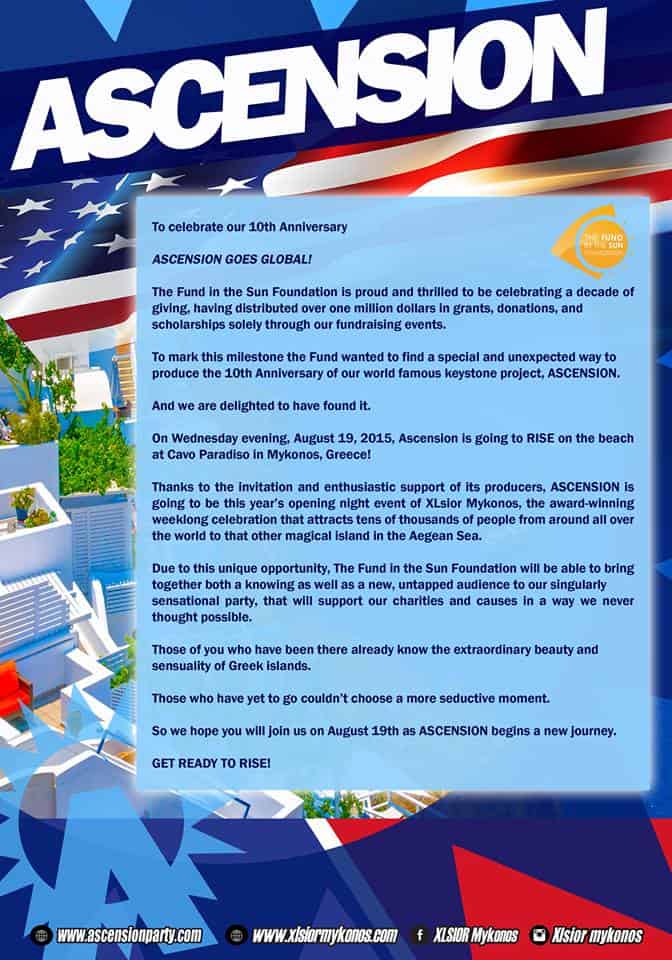 Late last week, an announcement on the Facebook page of the Ascension party, which traditionally takes place in August in Fire Island Pines, said the party was "going global" and relocating to the Greek island of Mykonos.
The party's producer, Eric von Kuersteiner, confirmed on the 'Free Fire Island' Facebook group that he too is boycotting properties owned by Ian Reisner and Mati Weiderpass, who cut a check and threw a reception for anti-gay conservative Senator and presidential hopeful Ted Cruz in April.
Good Morning. As many of you know part of the Ascension Weekend has always included events at the commercial properties. When I owned the commercial properties, Ascension rivaled the 4th of July in terms of income for the properties. In addition, homeowners have been able to receive a premium for the rentals because Ascension is considered a Holiday. Again last year it gave a boost of revenue to the downtown. When admission is $60 to go to the Sip N' Twirl (100% of proceeds is donated to charity) on a Saturday night and the place is packed to maximum capacity (pavilion had no cover and was empty) it should give you an idea of the power of the Ascension Brand and our customers that come for the weekend. Last year we sold out at the T Dance, with the highest ever attendance. I thought that the Boycott would have convinced Ian to do the right thing and sell (he's had offers since I withdrew mine) unfortunately however he has not. As I would not personally patronize any of his properties, I cannot in good conscience support his businesses with any additional revenue that Ascension brings to the Pines every year.