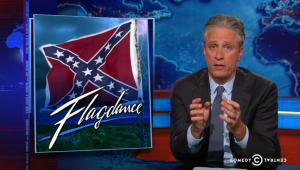 With the Confederate flag continuing to come down in Deep South states following last week's horrific mass shooting in Charleston, Daily Show host Jon Stewart opened last night's show with some colorful commentary and perspective on the rebel symbol.
Said Stewart:
"So listen, taking down the flag only 150 years after the South surrendered and 20 years after NASCAR did it, congratulations South Carolina for coming in just two decades behind America's favorite crash-based sport."
And might this "awakening" on an outdated, racist flag also extend to a nationwide examination of institutional racism in America? Stewart says not so fast.