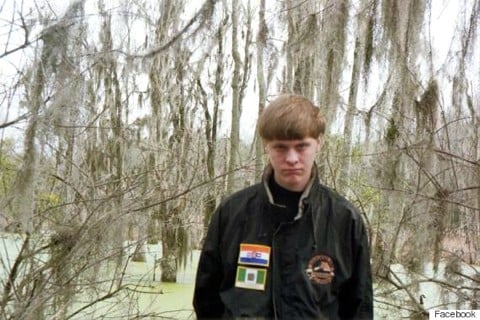 Several LGBT groups issued statements Thursday responding to the apparent hate crime murders of nine people at a historic African-American church in Charleston, South Carolina, on Wednesday.
Dylann Storm Roof, 21, was arrested Thursday in connection with the murders at Emanuel African Methodist Episcopal Church. According to CNN, Roof reportedly sat in a prayer meeting at the church for an hour before standing up and saying he was there "to shoot black people" and opening fire. Roof reportedly reloaded five times, and when one of the witnesses pleaded with him to stop, he said: "I have to do it. You rape our women and you're taking over our country. And you have to go."
One of the victims was a state senator and the pastor of the church, Clementa Pinckney.
Roof is shown above in an image from Facebook wearing a jacket with flags from apartheid-era South Africa and Rhodesia, which was ruled by a white minority until it became Zimbabwe in 1980.
From Lambda Legal Executive Director Kevin Cathcart:
"We join the nation in mourning the tragic murder of nine African-American parishioners in Charleston. Crimes like this, especially when they occur as this one did in a place of worship and in a historically African-American church, have scarred our nation and are a tragic reminder of how much work remains. Senseless violence motivated by hate has no place in a just society and everyone one of us has an obligation to stand up, speak out and work to end such violence. We offer our condolences to the families and loved ones of those who were killed and, more than that, we offer our promise to continue fighting for equality and justice."
From Human Rights Campaign President Chad Griffin:
"Today we are once again tragically reminded of the serious and widespread problem we face as a nation with violent, hate-motivated crimes – a problem which we as a nation must commit to addressing. Our thoughts and prayers are with the victims, their families, and the communities impacted by this horrific and senseless tragedy in Charleston seemingly targeted because of their race. As this heinous crime reverberates across the entire country, we stand united with allies and friends nationwide to end the cycle of violence motivated by hatred."
From Pride at Work Executive Director Jerame Davis:
"The horrendous crime that took the lives of nine African-Americans at the Emmanuel AME church in Charleston, South Carolina yesterday is heart wrenching. In moments like these, words often fail, but we must speak out when senseless, racist violence takes innocent lives. Our thoughts go out to the victims and their families.

"There is no justice that will bring back these nine people nor salve the grief of the surviving family members. The racist motivation of this murderer is another stark reminder that we must speak up and out to declare that #BlackLivesMatter. We will not rest until every corner of our country has heard that message and takes it to heart.

"It is disgusting and deplorable that some are painting this act of hatred as anything other than racially motivated. The Emmanuel AME church is a symbol of black liberation and the killer was explicit about his motivation – even going so far as to tell a survivor he spared her so she could tell others what happened. Those who try to paint this as anti-Christian violence are deplorably engaging in whitewashing the truth of the matter to perpetuate a false narrative.

"The violence, the racism, and the denial all must end. We are better than this."
From National Center for Lesbian Rights Executive Director Kate Kendell:
"There are moments when a headline is too much to comprehend. This is such a moment. The nightmare shooting and murder in Charleston of nine black African American parishioners in a hate fueled racially motivated attack leaves us bereft and sick. There are really no words. We grieve for the families and for our country. We know our nation cannot go on like this and yet, here we are. Will enough ever be enough? Until we are willing to address race and entrenched racism in this country, the headlines will continue."
From Jeff Ayers, executive director of South Carolina Equality:
"This morning, many of us woke up to the horrific news about the senseless massacre of nine innocent men and women during a prayer service inside one of Charleston's oldest and historic black churches, Emanuel AME Church.  This unthinkable tragedy reminds us of all the ways that we are united as one South Carolina family.  The police have one suspect that is still at large and we hope that he will be found and brought to justice for this heinous crime.  I want to express, on behalf of SC Equality, how heartbroken we are.  Even as we learn how this happened and who is responsible, we may never understand what leads someone to terrorize their fellow human beings like this.  Such violence, such evil, is senseless.  It's beyond reason.  But why we will never know fully what causes someone to take the life of another, we do know what makes life worth living.  The people that were lost last night in that sanctuary loved and were loved.  They were mothers and fathers, husbands and wives, sisters and brothers, sons and daughters, friends and neighbors.  They had hopes for the future and hopes that were not yet fulfilled.  I had the opportunity to meet Senator Pinckney many times at the State House and it was obvious that he was called to serve God as a pastor and his community as an elected official. He was a champion for the less fortunate and our thoughts and prayers go out to his family, members of his church and to the families of the other eight victims in last night's tragedy."
And from Equality Florida Executive Director Nadine Smith:
"Equality Florida stands today in mourning and in outrage at the murders of nine people inside their historic African-American church on Wednesday evening. It is a hate crime that has shocked the nation and claimed the lives of six women and three men, including State Senator Clementa Pinckney. Our hearts go out to their families, friends and the entire community reeling from this brutal act of terror.

"It's impossible to make sense of such a 'hateful and deranged' crime, as Charleston Mayor Joseph P. Riley Jr. put it. But we must note the connection between the deed and the hateful ideas that are said to have motivated it.

"The alleged gunman sat through an hour of Bible study before opening fire. And when he ignored the pleas of his intended victims and reloaded his gun, he said, according to a witness, 'I have to do it. You rape our women and you're taking over our country. And you have to go.'

"It is not enough to condemn the actions of a lone gunman; we must also confront the rancid, racist ideology at the heart of this crime. Not everyone who holds his apparent beliefs commits these horrific acts but we must challenge those views that nourish the kind of moral depravity that led to this slaughter."