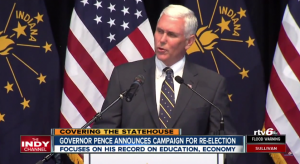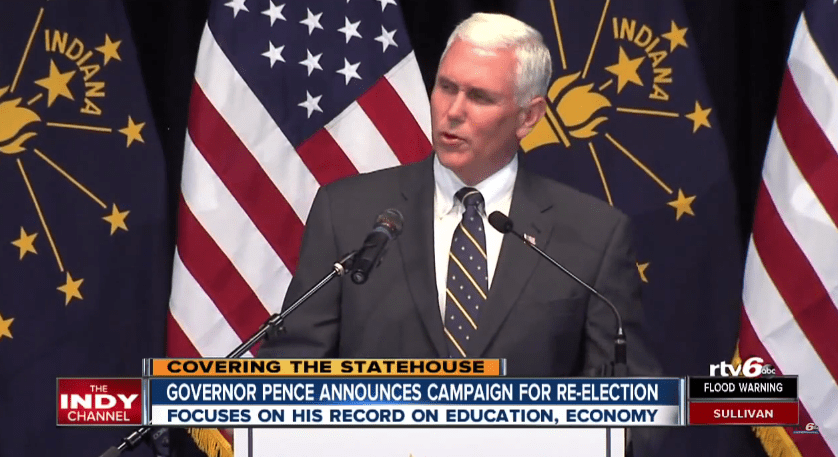 Indiana Gov. Mike Pence announced his bid for reelection in a speech at a GOP event yesterday that touched on his state's "religious freedom" controversy that dominated headlines across the country earlier this year.
Although Pence did not mention LGBT rights or the "religious freedom" law by name, the embattled governor hinted he would be open to extending non-discrimination protections to respect "the dignity and worth of every individual."
Said Pence to a crowd of 800 at the Indiana Republican Party Spring Dinner:
What all Hoosiers agree on is the importance of freedom. The importance of fairness, of compassion and kindness. I will ensure our state remains true to those ideals but we will not cower to intolerance from any quarter.

Unfortunately, this debate has become about winners and losers. In my eyes, through the lens of our Constitution and our values — we should not pick winners and losers. We should protect freedom. Period. And I look forward to working with anyone to ensure that is always the case.

In Indiana, we won't tolerate discrimination against anyone. But Hoosiers also know, in the changing tides of popular culture, there must be room for faith.

We will find our way forward as a state that respects the dignity and worth of every individual, and we will ensure that no government intervention, no government coercion will interfere with the freedom of conscience and freedom of religion enshrined in our state and federal constitution.
Katie Blair, campaign manager for the LGBT rights group Freedom Indiana, responded to Pence's comments with the following statement:
"It's encouraging that Governor Pence is willing to have a continued conversation about this issue and the fallout from RFRA, but it's clear that a majority of Hoosiers already support updating our laws to protect Hoosiers from discrimination based on sexual orientation or gender identity.

"If the Governor is serious about making our state a welcoming place, it's time for action, and we'd love to have the Governor as our ally as we move forward in the 2016 legislative session.

"Solving the disastrous public perception problem created by RFRA may take years. Enacting anti-discrimination measures to protect LGBT Hoosiers could happen a few months from now. We're ready to make our case, and we hope the Governor will stand with us to make sure all Hoosiers are protected from discrimination."
Indianapolis Mayor Greg Ballard and former Angie's List CEO Bill Oesterle both came out strongly against the state's discriminatory "religious freedom" law earlier this year and have signaled their interest in challenging Pence for the party's nomination.
A recent poll found 54 percent of voters want a new governor, with less than a third saying they would re-elect Pence.
Watch a portion of Pence's reelection speech below via RTV6:
Pence's full speech can be read here.