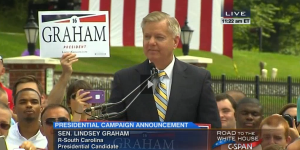 Sen. Lindsey Graham will call for the removal of the Confederate flag on South Carolina state grounds today, CNN reports:
Graham, a 2016 presidential candidate, will make his announcement during a press conference with South Carolina's Republican governor, Nikki Haley, at 4 p.m. Monday.
He will call for the flag to come down and be put in a museum.
Graham has been quietly urging his fellow elected representatives inside South Carolina over the past few days to make this move.
The news comes after mounting criticism over the flag flying at full staff in the days following the mass shooting at a historic black church in Charleston.
Previously, "Mitt Romney: Take Down the Confederate Flag at the South Carolina Capitol" [tlrd]