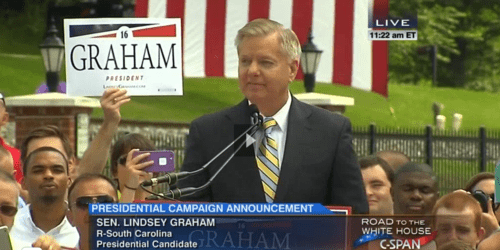 The Human Rights Campaign wasted no time releasing a candidate profile on Lindsey Graham's anti-LGBT record alongside the launch of the senator from South Carolina's presidential bid this morning in Central.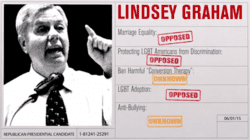 The HRC video highlight's Graham's opposition to marriage equality, gay adoption, hate crimes laws, and the DADT repeal.
In his announcement speech, Graham pledged to defeat radical Islam, be a "voice for social conservative values without apology or animosity" and to be a president "not of a single party, but of a nation."
Watch Graham's announcement and the HRC profile, AFTER THE JUMP…
The New York Times notes:
Unlike many other candidates, Mr. Graham is unmarried and has no children. To help connect with voters, he often talks about his sister and shares stories of his days working at the pool hall and liquor store that his family operated. Experiencing the early deaths of his parents, he sometimes recalls, made him mature more quickly.
Last month, Graham told the Boston Herald that society and the nation must "move forward" if the Supreme Court legalizes same-sex marriage nationwide.