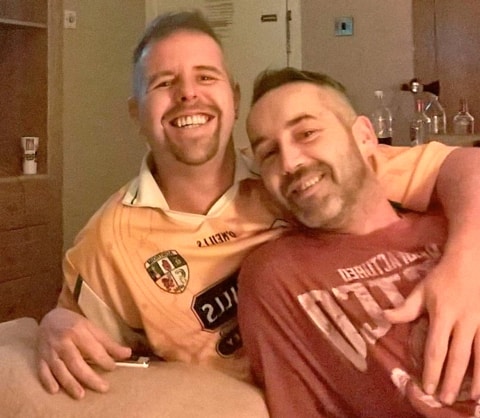 Ten years ago, Northern Ireland became the first country in the United Kingdom to recognize civil partnerships between same-sex couples.
But today, Northern Ireland — home to almost 2 million people — is the only country in the UK or Ireland that hasn't legalized same-sex marriage.
On Friday, two same-sex couples that were the first to enter civil partnerships in 2005 — Grainne Close and Shannon Sickles, and Chris and Henry Flanagan-Kane (above) — will try to change that by filing a High Court challenge to the marriage ban.
According to The Belfast Telegraph, Close wrote on Facebook this week:
"Our barrister, Laura McMahon, will argue that to bar equal marriage is a fundamental discrimination of our rights under the European convention on human rights, which is without justification.

"This is not about Shannon and I wanting the right to walk up the aisle in St Mary's Church, Ahoghill (that notion left me along time ago!).

"We are being denied a basic human right. …

"The fact that we have to stand in a different queue from opposite sex peers when it comes to having our relationship recognised by the State is itself indicative that we are treated differently."
The lawsuit will be the second challenging Northern Ireland's marriage ban in court. Earlier this year, a British couple filed a lawsuit seeking to have their marriage recognized in Northern Ireland.
Back in April, Northern Ireland's Assembly rejected marriage equality legislation for the fourth time, thanks to opposition from evangelical Christians in the Democratic Unionist party.
DUP Assembly member Peter Weir (right) said at the time:
"This is not a serious debate. Clearly this motion is an attack on the symbolism of marriage and the institution of marriage and an attempt to redefine marriage. My party believes, and I believe also, that marriage is between one man and one woman and once you redefine that you lose the essence of marriage itself."
Also in April, DUP member Jim Wells resigned after saying after saying children of gay parents are "more likely" to be abused or neglected.
In May, the Belfast City Council voted in favor of marriage equality.