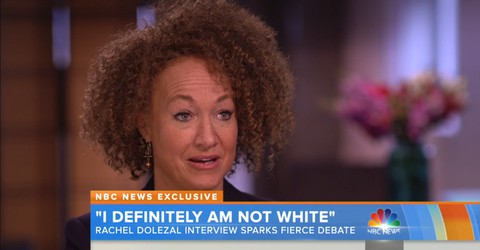 In an interview with NBC Nightly News, Rachel Dolezal, the former leader of the Spokane, Washington chapter of the NAACP at the center of a controversy surrounding her race, has revealed that she is bisexual and feels an affinity towards Caitlyn Jenner's struggle.
As People Magazine reports, Dolezal told NBC's Savannah Guthrie, "I'm bisexual. And so, you know, I've dated men and women." Dolezal went on to bring up the subject of her race when discussing the topic of who she dates, saying, "And I will intentionally ask, like, 'So do you just date light-skinned women? What's your spectrum?'"
Dolezal made headlines earlier this week after it was revealed that she portrays herself as a black woman yet was born white.
In the interview with NBC, Dolezal added that, after reading Caitlyn Jenner's Vanity Fair cover story, she cried because the story resonated with her own experiences:
"I resonated with some of the themes of isolation, of being misunderstood – to not know if you have a conversation with somebody, will that relationship then end because they have seen you as one way," she said of the former Olympian's interview, wiping away tears.
However, at least one psychologist has come forward to eschew the notion that being transgender and being transracial are equatable:
"Most people who are transgender, [when they are] as early as 4 or 5, believe already that at some level that they are a child born with the wrong anatomy. I don't see this [with Dolezal]," said Derald Wing Sue, a professor of psychology and education at Teacher's College, Columbia University, where he has researched and studied racial identity. "I think [the comparison] is all an attempt to not really see the issue. The issue is deception, honesty and pretense. You have to get to the bottom of that."
Watch the interview below: