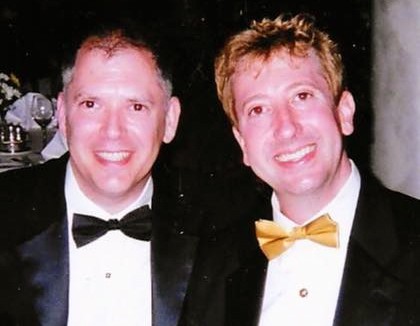 The lead plaintiff in the same-sex marriage cases before the U.S. Supreme Court says he'll continue to fight for LGBT equality even if justices rule in his favor.
Jim Obergefell (above left) married his dying partner of more than 20 years, John Arthur (above right), on the tarmac of the Baltimore airport in 2013. Obergefell later filed a lawsuit in their home state of Ohio seeking to be listed as the surviving spouse on Arthur's death certificate.
After a federal judge ruled in Obergefell's favor, the state appealed the decision, and the 6th U.S. Circuit Court of Appeals overturned it. Now, Obergefell's case is one of four challenging same-sex marriage bans in as many states before the high court, which could rule any day now.
But Obergefell — who's been at the Supreme Court on decision days to watch the rulings come down — told New York Magazine that regardless of how the court rules, he's remain an activist:
"With this ruling coming out, and even if the ruling is what we're hoping for, I know I'm not done. Even though my case will have ended, and there will be marriage equality coast to coast, there's still so much more to do for the LGBT community. I mean, across the country, even being able to marry, couples will lose their jobs, lose their homes, because they're gay or bisexual or transgender. And that isn't right. I have discovered my internal activist, and I have to keep fighting. It's too important to me now to say, Okay, marriage equality is done, I'm going to go back to my normal life. This has become my normal life."
Obergefell said he's been amazed by the support he's received, but is still struggling to deal with his status emotionally:
"It doesn't seem possible. I mean, on one hand, it's incredible to think that my name, John's and my story, is a landmark case that will be in history books. That's an incredible thing, on an intellectual level. It's the emotional level where I'm still catching up to that. It just doesn't seem possible, and it doesn't seem at all possible that I'm the person at the center of it. Knowing that I wasn't an activist, and knowing that it all started just because John and I loved each other."
Watch interviews with Obergefell and Arthur before he died, as well as footage from their wedding ceremony below:
ABC US News | World News