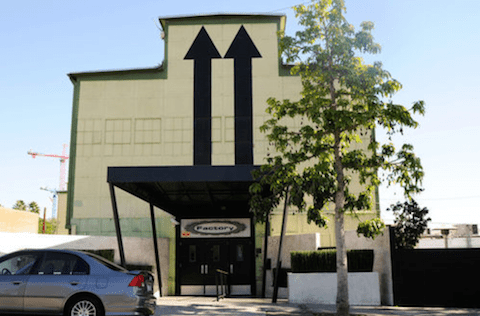 The National Trust for Historic Preservation's list of endangered U.S. historic sites this year includes West Hollywood's iconic building The Factory, which is endangered by a proposal project that may soon replace it with a hotel and retail complex reports Curbed. The building is perhaps best known as the location for 1970s nightclub Studio One, known as the Studio 54 of the West at the time, that played a large part in the gay rights movement, hosting one of the first and largest fundraisers to finance AIDS research.
The proposal project, dubbed Robertson Lane, is spearheaded by developer Jason Illoulian who is working on constructing retail space near the historic Norms diner on La Cienega. The plan notes that a 250-room hotel, restaurant and shops will interfere with The Factory's location, with a wide paseo that would run directly through the building's lot.
The LA Conservancy and preservationists that have petitioned to designate the building as a WeHo landmark have experienced no success in guaranteeing the site's protection. The Factory's owner objected to the Historic Preservation Commission's protection recommendation, which led to the WeHo City Council overruling the decision in 1995.