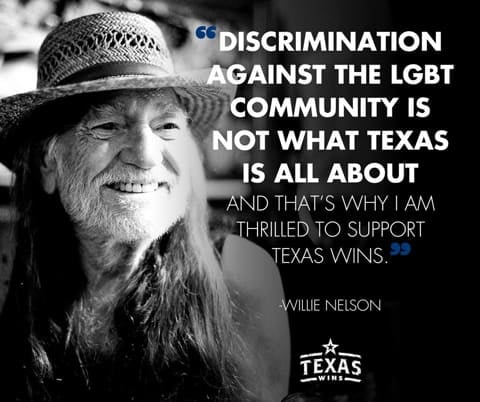 Country music legend Willie Nelson has joined a campaign to end anti-LGBT discrimination in Texas.
From the Texas Wins campaign: 
On discrimination, the outspoken musician said, "Discrimination against the LGBT community in not what Texas is all about. And that's why I'm thrilled to support Texas Wins." 
Willie's endorsement is critical, and further demonstrates that a majority of Texans support common-sense non-discrimination protections that include sexual orientation and gender identity.
Texas has a proud tradition of embracing rugged individualism, freedom and equality, and that's exactly what our campaign is all about. Willie's statement attests to the strong Texas values that makes our state so great.
Nelson, a Texas native and resident, came out in support of same-sex marriage in an interview with Texas Monthly a few years back, saying, "[Gay people] should be just as miserable as the rest of us." 
Listen to Nelson's cover of "Cowboys Are Frequently Secretly Fond Of Each Other," AFTER THE JUMP …