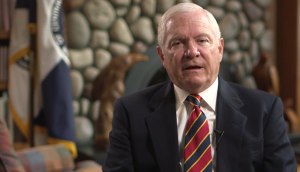 The Boy Scouts of America's National Executive Board has voted to lift the organization's ban on gay adults.
"For far too long, this issue has divided and distracted us," said BSA president Robert Gates in a video announcing the news. "Now it's time to unite behind our shared belief in the extraordinary power of scouting to be a force for good in a community and in the lives of its youth members."
The change prohibits regional governing councils or non-Troop entities (i.e boy scouts camps) from discriminating based on sexual orientation. Individual troop units can self-determine policy regarding openly gay or bisexual adults, meaning church-sponsored groups can still discriminate.
Additionally, leaders who have previously been removed under the gay adult ban will be allowed to reapply for their position. Scouts for Equality has been profiling these men and women in the lead up to this historic vote.
"This vote marks the beginning of a new chapter for the Boy Scouts of America," said Zach Wahls, the Executive Director of Scouts for Equality, in a statement. "Tens of thousands of people came together because they wanted to build a better future for the Boy Scouts of America, and that future starts today. I couldn't be more proud of the tireless work of our members, volunteers, and staff over these last three years. As of today, the Boy Scouts of America is an organization that is looking forward, not back."
"While we still have some reservations about individual units discriminating against gay adults, we couldn't be more excited about the future of Scouting," continued Wahls. "We look forward to collaborating with our supporters, progressive faith partners, allied non-profit organizations, and the Boy Scouts of America to ensure a fully inclusive Scouting movement."
https://www.youtube.com/watch?v=6uTnjI6szUQ