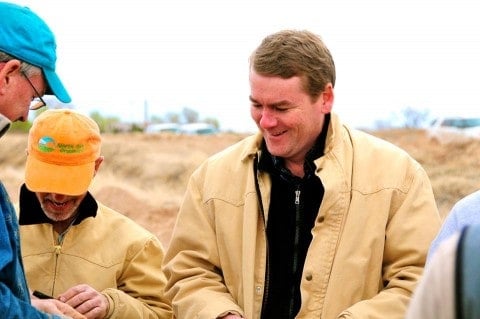 On Tuesday, Sen. Michael Bennet (D-Colo, above) has reintroduced the LGBT Elder Americans Act. The omnibus bill is aimed at building resources for aging LGBT Americans; as Senator Bennet points out, the amount of LGBT American seniors is expected to double to 3 million by the year 2030.
The bill would do several things, establishing older LGBT people as a class of people with "social need," establish the National Resource Center on LGBT Aging, require the Assistant Secretary for Aging to report and collect studies specific to LGBT older adults, and more.
Via The Washington Blade, here is what Sen. Bennet said in a statement:
As baby boomers continue to age, it's important that we understand the unique needs of this diverse generation…For LGBT seniors, questions about health care and financial issues can be particularly difficult without a trustworthy advocate to help guide them through these challenging decisions. And now, with full marriage equality thankfully the law of the land, many older LGBT couples have additional planning decisions to make. This bill will help aging service organizations assist older LGBT adults and their caregivers. Above all, it will provide LGBT seniors and their families the peace of mind that their best interests are being considered.
Bennet will be joined in presenting the bill with original co-sponsors of the legislation Sen. Tammy Baldwin (D-Wis.) and Sen. Jeff Merkley (D-Ore.).