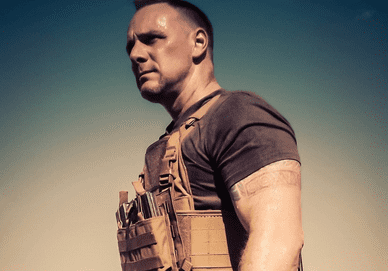 An openly gay former Navy SEAL has filed an explosive, internal complaint alleging anti-gay harassment while on a CIA work assignment in Afghanistan last month.
Brett Jones, the author of "Pride: The Story of the First Openly Gay Navy SEAL," told The San Diego Union-Tribune he felt targeted by his teammates because of his sexuality and feared for his life during his June deployment in an undisclosed location.
Things seemed wrong as soon as his helicopter landed near his post in Afghanistan last month. Typically there was someone to pick up new arrivals and drive them and their gear to their headquarters. Not this time; he said he walked the quarter-mile to the compound.
He retreated to his room and found his floor dirty and a sheet smelling of feces. Jet-lagged and tired, he slept on the mattress, he recalled.
He overheard people calling him a "faggot," and he said they were defensive when he confronted them about it.
And during a test ride of some of the team's vehicles, he got out to walk a stretch through hairy terrain. The team ditched him in 120-degree temperatures, without water, forcing him to walk part way back to their compound before they stopped to let him back inside.
"I heard a faint laughing followed by a distant, 'He can walk back!' The door closed and they drove out of sight," Jones said in a statement.
Jones also obtained a copy of a PowerPoint presentation shown to CIA employees that reportedly contained sexist, anti-gay, and racist themes.
Rep. Adam Schiff (D-CA), the ranking member of the House committee that oversees intelligence communities, said the accusations are serious and merit investigation.
The CIA, meanwhile, said in a statement the agency takes allegations of harassment "very seriously."
Jones added he believes his work with the CIA, as he suspects people will be reluctant to work with him now that he's gone public with his story.